The first teaser for "Psych: The Movie" is here, and have you heard about Pluto?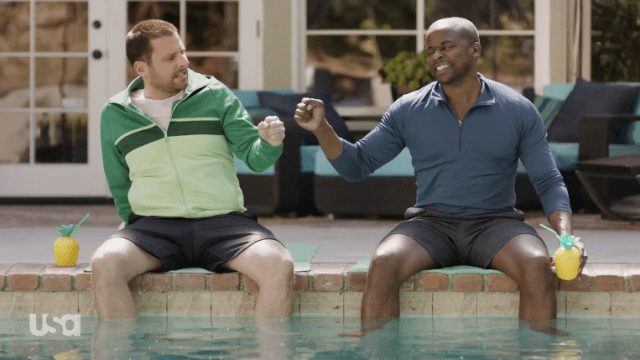 It's time to bust out the pineapples and nicknames because the first teaser for Psych: The Movie is HERE.
The three-minute trailer depicts Shawn Spencer (James Roday) and Burton "Gus" Guster (Dulé Hill) getting back into shape — Psych shape, that is. The teaser was unveiled today at San Diego Comic-Con. During the film's panel, the cast — Roday, Hill, Maggie Lawson, Kirsten Nelson, Corbin Bersen — and creator Steve Franks opened up about their reunion, unveiled the first eight minutes of the film, and teased the idea of more Psych films in the future.
C'mon, son! Like we could ever forget.
Timothy Omundson, who plays Carlton Lassiter on the series, was especially missed at the Psych: The Movie panel. The Galavant actor suffered a stroke just before production on the film wast set to begin. Despite his absence — the actor is still recovering from the stroke —  his Psych castmates gave him a special shout-out and even filmed a video of the crowd saying iconic Psych phrase "suck it" to send to him. It will remain to be seen whether Omundson will make an appearance in the final cut of Psych: The Movie, but Franks assured Entertainment Weekly that he was 99 percent sure Lassiter would make an appearance in one way or another.
Psych: The Movie takes place three years after the show's finale and will see our favorite group of detectives (real and fake psychic) team up to solve a mystery over the holidays after the Thin White Duke (Zachary Levi) targets one of their own. The TV movie will also trade the series' beloved setting of Santa Barbara for San Francisco, where most of the characters relocated during the show's finale.
The upcoming film will also see the return of many fan favorite characters including Kurt Fuller as Woody the Coroner, Ralph Macchio as Police Academy instructor Nick Conforth, and panel moderator Jimmi Simpson, who will be making his third posthumous appearance as Mr. Yang expert Mary Lightly.
We're sensing something — we love it already! Psych: The Movie will air on USA Network in December.