PSA: You need to see Zac Efron riding a camel immediately
We're not quite sure what was life was like before this moment, but now we've seen videos and pictures of Zac Efron riding a camel shirtless in Dubai we know that it will ever be the same again.
It's becoming more and more obvious to us that Zac Efron might just be the nicest guy in Hollywood. Not only did the actor pay a quick surprise visit to Olympic athlete Simone Biles after he discovered that she had a crush on him, but Zac also apologized to Paris Jackson for breaking her heart when she was 10 years old after he failed to appear during the High School Musical Live!  tour.
Oh, and Zac also shares pictures like this on to Instagram…
Well. now Zac Efron has shared an Instagram story of himself riding a camel, and it might be the most important visual we've ever seen.
It seems that Zac is currently taking a break before the release of the upcoming Baywatch reboot to rest and relax in Dubai.
The actor, who was recently announced as the new ambassador for Hugo Boss mens, was in the country promoting Hugo Man's "Your Time Is Now" campaign, and while there decided to strip off (obvs) and ride a camel (not so obvs).
Sharing videos and pictures to Instagram stories, Zac seemed to be really getting into the camel riding. In fact, one particular picture of Zac cosying up to a camel really sent people into a meltdown.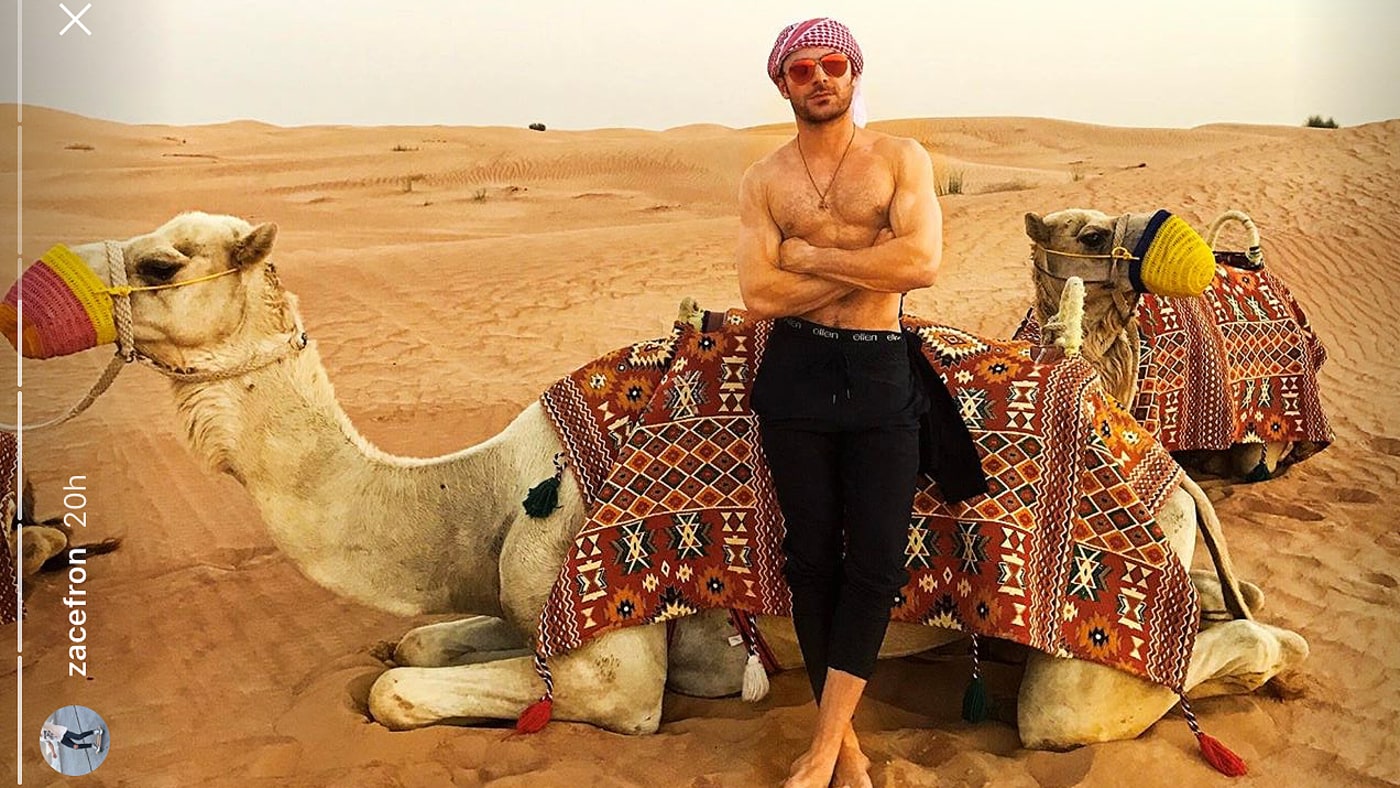 After sharing the picture, Zac sent people on social media into overdrive. false
false
https://twitter.com/udfredirect/status/849170810715623424
false
Check out a video of Zac literally riding a camel. https://www.youtube.com/watch?v=EqkXDsbLm4Q
You're welcome.
Seriously though, how do we move on from this experience? We're not quite sure, tbh.
Of course, there's always Zac's turn in the upcoming Baywatch reboot, which hits theaters on May 26th to look forward to…