These are all the heroes arrested at Brett Kavanaugh's Supreme Court confirmation hearing today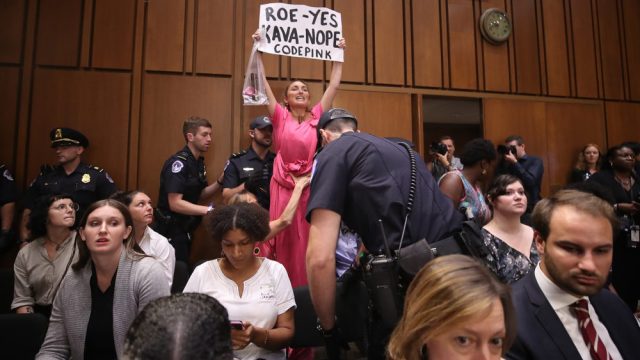 In July, President Donald Trump nominated Brett Kavanaugh to fill the seat of retiring Supreme Court Justice Anthony Kennedy. The Senate hearing to confirm Kavanaugh began today, September 4th, amid concerns that his appointment could endanger women's rights to reproductive healthcare. But dozens of protesters showed up to fight Kavanaugh's confirmation, some even getting arrested in the process.
As Vox.com explained, the night before the hearing, September 3rd, a representative from the George W. Bush White House Library released more than 42,000 documents about Kavanaugh's time as a White House counsel and staff secretary under Bush. Democrats argued that the hearing before the Senate Judiciary Committee should be postponed until they have had time to read the documents, but Republicans plowed ahead with the hearing.
In addition to efforts to delay the hearing from within the Senate, civilian protesters also showed up in droves to voice their concerns over Kavanaugh's appointment. According to CNN, protesters inside the hearing room interrupted the proceedings, yelling things like, "Threat to women's rights" and "Hell no, Kavanaugh."
In a statement to CNN, Women's March said that at least 30 protesters had been arrested as of 12:17 p.m. ET. The Hill reported that those arrested included actress Piper Perabo and Shaunna Thomas, the executive director and co-founder of women's right group UltraViolet.
"Senators, on behalf of the millions of women across the country whose rights will be stripped by a Kavanaugh court, I demand you reject this nomination," Thomas reportedly said during the hearing.
The Women's March Twitter account tweeted that UltraViolet, NARAL, and the Center for Popular Democracy's action arm had teamed up with the Women's March to organize these protests. Women's March has also tweeted videos of several demonstrators being arrested.
Outside the hearing room, even more protests took place. The Hill reported that protesters from the liberal advocacy group Demand Justice waited in the hallway outside the hearing, dressed as handmaids from The Handmaid's Tale.
"Brett Kavanaugh is an extremist ideologue who, if confirmed to the Supreme Court, will take away women's basic rights," the group said in a statement to The Hill.
Kavanaugh's hearing is expected to last until September 7th. And given what's at stake if Trump's nominee is appointed to the Supreme Court, we have a feeling the fight against this confirmation has only just begun. If you want to help those demonstrating against Kavanaugh, you can donate to the Cancel Kavanaugh campaign from Women's March.