15 products that will protect your hair from that big fiery ball in the sky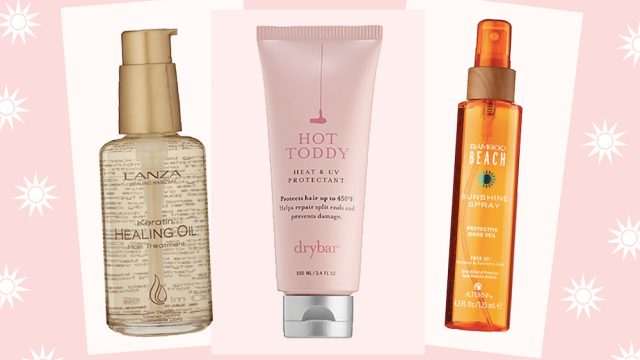 Did you know that it's not just your skin that you need to protect from the summer sun, but your hair as well? Regardless of whether you have color-treated hair, the sun can sap it of its healthy oils and leave it looking and feeling like a bale of hay. Luckily, there are plenty of products that will protect your hair from the sun's rays this summer season.
And while hats are a great way to protect your hair from damage, sometimes they're not an option and you need another solution. UV rays erode the hair's cuticle, which means that the outer layer of the hair that protects the inner layers is compromised. Since that's where color comes from, sun bleaching breaks down the melanin in your hair, drying it out and weakening it, making it stiff, brittle, and breakable.
We talked to hairstylist Clyde Haygood about keeping our hair healthy — he's worked with the Kardashian/Jenner ladies, Demi Lovato, Katy Perry, Lady Gaga, and Shirley Manson — so you can trust that he definitely knows his stuff. You've probably seen his work in W, Vogue, Rolling Stone, Marie Claire, and Esquire, to name a few. He's one of the busiest stylists out there, and for good reason, his innovative looks and enthusiasm for his job make him a dream to work with.
We asked Clyde what his favorite hair protectant was and hands down he tells us it's Phytoplage Protective Sun Oil. Clyde says to HelloGiggles,
"Besides being a UV protectant, it gives hair an amazing shine. I will even sometimes use it on photoshoots and red carpets to give hair a metallic gleam."
Clyde is also a fan of natural remedies, like using coconut oil and vinegar rinses to clarify hair and give it shine. He also tells us that, while there are lots of different kinds of hair protectants, his favorite are the kind that spray so that it's evenly distributed from scalp to tips for ultimate protection from the sun. Makes sense to us!