The promo for "Beyond the Gates" totally takes us back to our favorite '80s horror movies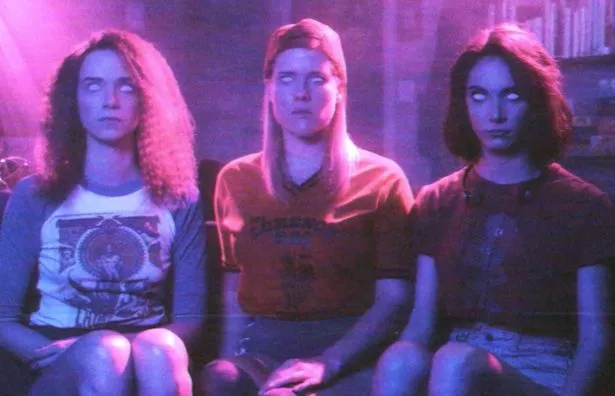 With the monstrous success of the Stephen-King-like show, Stranger Things, to the coming remakes of classics like IT and An American Werewolf in London, one thing is clear — nostalgia is alive and well in the horror world. Beyond the Gates, set to open this Friday, gave us this promo trailer that totally feeds our need for '80s-inspired terror.
The late '80s and early '90s were the golden era for horror-themed games. You had video games like Chiller and Splatterhouse, and then you had boxed games like Ghost Castle and Arkham Horror. VHS-based board games like "Nightmare" (which the HelloGiggles staff bravely played on Halloween) brought a new combo of arcade and film into your own living room. The film itself follows two brothers as they attempt begin liquidating their missing father's video store. While they clean, they find the VHS-based board game, Beyond the Gates. Can the game be the key to unlocking the truth about their father's disappearance? They will have to travel beyond the gates to find out!
https://www.youtube.com/watch?v=u1du4IVkO9A?feature=oembed
Evelyn, the ominous host of the VHS game is portrayed by none other than scream queen, Barbara Crampton. Horror fans will recognize Crampton from '80s classics like Re-Animator, Chopping Mall, and From Beyond. Crampton creeps into our hearts all over again in Beyond the Gates, reminiscent of of horror hostess, Elvira and Grand High Witch, Anjelica Houston. Her ghoulish gaze commands notice even when she is standing silent on the screen. The film's cast also includes Alexandra Essoe of Starry Eyes and Samantha Robinson of The Love Witch.
Barbara in the '80s, an original queen of scream!
Beyond the Gates won the audience award at the Los Angeles Film festival earlier this summer. With a scream queen-studded cast and on-point '80s homages, the Jackson Stewart-directed flick is sure to interest any hardcore horror movie fan.
Beyond The Gates opens this Friday in select theaters and Video on Demand.