10 emerging WOC beauty brands we discovered at Project Beauty Expo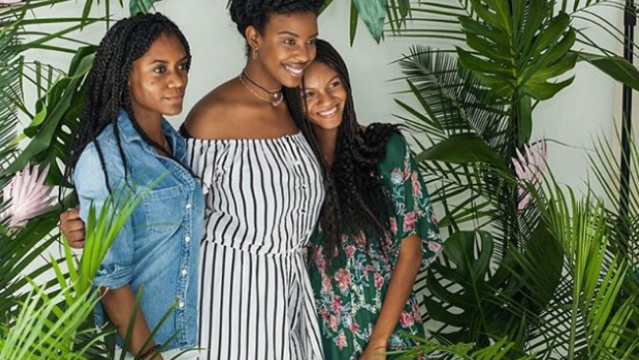 It's not often that mainstream beauty-centric events center the beauty and skincare needs of brown and Black women. That's where Project Beauty Expo, founded by cosmetics entrepreneur Brittany Brown, comes in. Brown started the first beauty expo of its kind that provides an intimate space for Black and brown consumers and indie beauty brands to connect. The idea was birthed by Brown's frustration by the lack of multicultural women in the beauty industry.
This year's PBE (which was held in New York City for the second time), took place on August 12th, at the Hudson Mercantile Annex, and brought together upwards of 300 women of color. During the press/buyer preview, Brown emphasized her mission to create a more intimate expo that deliberately features emerging brands that aren't widely recognized.
Many, if not all of the woman of color-owned, indie brands touted wellness as their focus, and everything from non-toxic nail polish, to herbal teas, to "grounding" essential oils, were available for women to add to their wellness routines.
Here are 10 standout brands from this year's PBE.
If you've never thought to use herbal teas as a hair treatment, check out Forever Wild Organics' Hair Growth & Rinse Tea which features peppermint, oatstraw, and rosemary. The brand offers unisex, multi-use hair and body products for kinks and coils that are vegan, organic, and chemical-free. Brand founder Chelsea Cannon also works specifically to source her ingredients from POC and Black farmers.
On her inspiration for starting the brand, she said: "I've always been interested in beauty and herbalism. I studied under Karen Rose, who is a Master Herbalist from Brooklyn and she taught me the value of understanding the plants medicinally and spiritually. So, I try to limit the number of ingredients that I use since I was taught that I need to study and really understand each plant, which takes time."
To offer more green beauty products for women of color, Beija-Flor Naturals began in 2009 as a line of healing oils, herbs, and butters for skin and hair. Founder Stevonne Ratliff has since expanded her brand into a lifestyle shop, with two current locations in San Francisco and Oakland. A full-time entrepreneur for 10 years, Ratliff's business recently received financial support from the Sundial New Voices Fund. Hopefully this means she can keep offering handcrafted, organic, natural hair care products like her Creme Brulee for Kinks Curls and Coils Curling and Twisting Cream .
Caroline Owusu-Ansah's Luv Scrub is proof that you don't have to reinvent the wheel, you just have to improve upon it. And that's what she did, by putting a cultural twist on a classic shower product—the loofah. A staple in West African culture, Owusu-Ansah is bringing her oversized, mesh exfoliator to the masses, and it has standard loofahs, poufs, and washcloths beat with its ability to stretch and clean hard-to-reach areas, like your back.
https://www.instagram.com/p/BmYP_HagG6A
Mor Skin's Founder and CEO Immacula Jean-Charles launched her brand for the first time, at this year's PBE. As a Board Certified Family Nurse Practitioner, Jean-Charles knows the importance of using nourishing ingredients, after her own skin struggles prompted her to look for more holistic products. Hence, her mission to  "inspire, encourage,  and empower women to take care of their skin from the inside out." I was lucky enough to test out her Balancing Beauty Oil, and as someone with oily/combination skin, I usually steer clear of oils, but this particular one absorbed into my skin easily and felt nourishing, instead of suffocating.
Mother and daughter Mabel Covey and Aimee Sowu, two cosmetic chemists by trade, began to look for ways to care for multicultural hair that had been damaged by straightening and chemical processing. Their own personal hair journeys, along with conversations with thousands of women about the requirements of their dream hair products, lead them to create CUE. This line of affordable, salon-grade hair products includes must-haves like Hyperbeat Shampoo for thick and curly hair.
Niambi Cacchioli, a former African Diaspora historian and vegan expert, started Pholk Beauty to address her and other women of color's specific skin concerns, like hyperpigmentation, ingrown hairs, and oily/combo skin. Pholk Beauty offers affordability and natural ingredients like those found in their H2 Oil Hemp x Hibiscus Night Treatment For All Skin.
https://www.instagram.com/p/BjamyVRh0pN
With a minimal and vintage apothecary-inspired aesthetic, H & B offers candles, bath and body oils, and aromatherapy roll-ons, that can aid in self-care, when you need to reset from the frenzy that has become a part of our daily lives.
Tangela Griffin, Esq. founded Vow Beauty in 2015 to address the uneven skin tone, hyperpigmentation, enlarged pores and a host of other skin problems that often plague Black women. With products like the Happily Ever After Eye Gel, Griffin encourages her customers to vow to prioritize their skincare, using products that are formulated without parabens, dyes, alcohols, or fragrances.
Inspired by the idea that young moms (and all moms) and busy women still need to practice self-care, CEO and founder Riane Ellyse McWain, wanted to offer women a line of nail polishes that was fast-drying, non-toxic, and cruelty-free. Thus, her line of colorful polishes and nail care products, which have motivational messages on each bottle, was born.
Brand founder Anne Suinner-Lawoyin (who exhibited at PBE despite having lost her voice), started her brand as part of her mission to eliminate toxins from her family's daily life. As a nurse, educator, and natural skincare philosopher, her line of natural deodorants, cleansers, and face masks encourages customers to practice more holistic living.