You probably missed this sneaky moment in "The Office," says John Krasinski (aka JIM!)
If you're a die-hard fan of the hit television show The Office, I'm willing to bet you've re-watched each episode at least times. Be honest: What else would you have on in the background while you're getting ready or cooking dinner? Even the most intense fans are likely to have missed one hilarious moment early on in the show, though. Luckily for us, John Kraskinsi, who played Jim on the show, gave us some pretty concrete directions as to how to find this hidden blooper.
In reference to Season 2, Episode 3 called the "Office Olympics" there is a hidden gem that even we didn't catch. As Kraskinsi explains it,
"When we first saw the first cut of it, no one had said the phrase 'yogurt lids.' So in the middle of this first cut, that didn't go to air, obviously, it's our editor [saying 'yogurt lids']. So I think I'm saying, 'And I'll be handing out these…' and then you hear the editor say 'yogurt lids.' And so the yogurt lid thing, we always laugh when we hear it."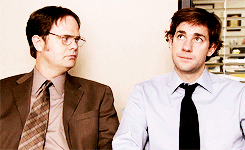 Oh, Jim. How silly you are! According to Bustle, the clip is actually readily available, both in the episode that is up on Netflix and in the clip of the scene up on the NBC site. While it may not have made it to the air when the office was running new episodes, it appears that is available now, in all of its hilarious glory.
Check out the clip here, courtesy of NBC:
<div itemprop="video" itemscope itemtype="http://schema.org/VideoObject"><iframe src="//player.theplatform.com/p/NnzsPC/widget/select/media/YkWTC9pkmUSx" width="480″ height="270″ frameBorder="0″ seamless="seamless" allowFullScreen></iframe></div>