Priyanka Chopra and Nick Jonas paid a secret visit to Prince Harry and Meghan Markle the same week they reportedly got engaged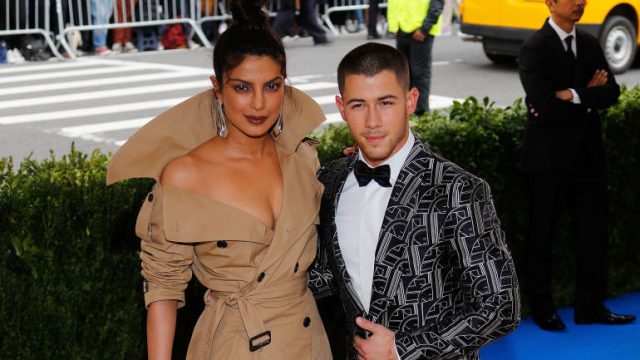 When news broke that Nick Jonas and Priyanka Chopra reportedly got engaged while celebrating the actress's birthday in London, the internet totally lost it. Everyone had tons of questions: How did he pop the question? What does her ring look like? When will they get married? And most importantly: Will Prince Harry and Meghan Markle attend their wedding?
Well, we don't know if the royal couple will be present for a Jonas/Chopra wedding just yet. But it sounds like Jonas and Chopra did more than just celebrate her birthday while they were across the pond. Apparently, they also paid a top-secret visit to the Duke and Duchess of Sussex.
A source told Us Weekly that the couple visited Harry and Meghan's home in Oxfordshire, England, the same week of their engagement. Which can only mean that the royals approve of Jonas, right? We like to think so.
ICYMI, Chopra and Markle have been friends for a while. So it only makes sense that Chopra would want one of her besties to meet her beau before they got engaged. After all, Chopra totally approves of Harry. (Who wouldn't?) The actress attended the royal wedding back in May and had nothing but lovely things to say about her gal pal.
"You my friend were the epitome of grace, love, and beauty," Chopra wrote in an emotional Instagram post after the royal nuptials. "Every choice made at this wedding by you both will go down in history, not just because it was your wedding, but because this incredible wedding stood for change and hope...both things that the world needs desperately. Thank you for being the perfect picture of all things good."
Aww. We're crossing our fingers that we'll get to see Harry and Meghan at Nick and Priyanka's wedding. Until then, we'll settle for pics of a double date.