Priyanka Chopra's nickname for Nick Jonas makes fun of their age gap, and we stan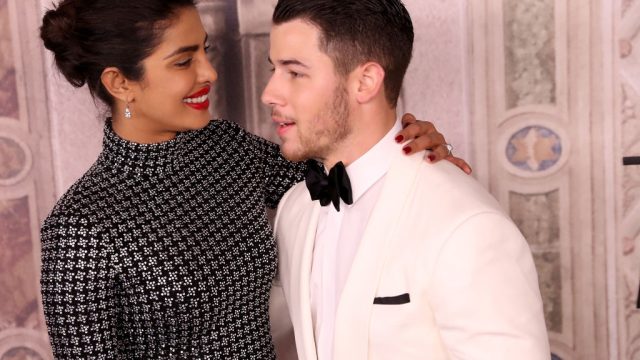 It's hard to believe that Nick Jonas and Priyanka Chopra are already about to tie the knot, but the time has come. The couple—and their friends and family—have arrived in India for the big day, and the internet is following every moment. Even though it's a slight bummer that Jonas will be off the market, it's hard not to be obsessed with their relationship, especially now that we know what Chopra calls her boo behind the scenes.
One of the biggest (and most ridiculous) criticisms people had of their relationship when they first got together was the 10-year age difference between them—Jonas is 26 and Chopra is 36. But as she told Vogue in a recent interview, one of the nicknames she has for Jonas references that age difference, and it's kind of hilarious.
Are you ready for this? She calls him "Old Man Jonas." OMG.
Apparently, she shared the nickname when Jonas was exhibiting some old man behavior, like looking for his house slippers during the interview, and it definitely seems appropriate. Even when he was younger (you know, back in the days of the Jonas Brothers), he was always super mature. Maybe that's why marrying someone who is a full decade older than he is was the perfect choice for him?
There were many other cute moments in the interview, too, just in case you need a few more reasons to believe in true love. The couple disclosed to Vogue that they met via Twitter DM (Jonas made the first move) and that their first date ended in a back pat, not a kiss. And the proposal story? Too good. 
"I got down on one knee, again, and I said: Will you make me the happiest man in the world and marry me?" Jonas said. "No joke—she took about 45 seconds. Forty-five seconds of silence."
That had to be nerve-wracking. but as we know, she said yes, and now they're about to live happily ever after. Sigh.