Priyanka Chopra and Nick Jonas are reportedly engaged, and here's everything we know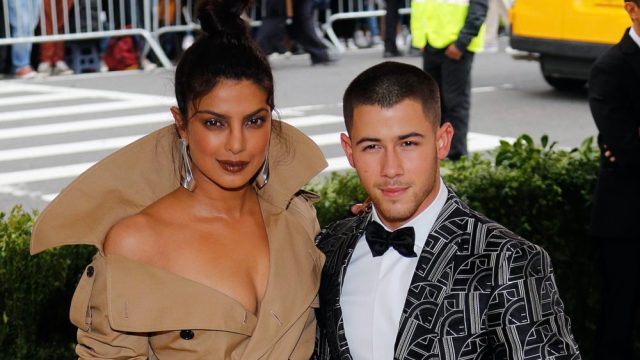 Elusive couple Nick Jonas and Priyanka Chopra have reportedly joined this summer's whirlwind engagement club. A source close to the couple told People.com that they got engaged about a week ago while celebrating Chopra's 36th birthday in London. The source went on to say that before popping the question abroad, Jonas closed down a New York City Tiffany & Co. location to purchase an engagement ring.
"His friends and family have never seen him like this, and they're all really excited for him," the source said. "He's definitely very serious about her."
Fans had a suspicion engagement news was coming after Chopra's director for the Indian film Bharat tweeted that Chopra was leaving the film. Director Ali Abbas Zafar said in a punny July 26th tweet, the reason for Chopra's leaving "is very very special."
"She told us in the Nick of time about her decision and we are very happy for her," Zafar added. "Team Bharat wishes @priyankachopra loads of love & happiness for life."
Although the pair have reportedly only been dating since May 2018, they've been linked since the 2017 Met Gala. Dating rumors began swirling after the actress and the "Anywhere" singer arrived to the 2017 event together, both decked in Ralph Lauren. Chopra later denied a romance with Jonas on Jimmy Kimmel Live! She said they were both guests of Ralph Lauren so it just made sense for them to arrive together. Hmm…
Earlier this year, Chopra and Jonas seemingly let their romance flourish, although neither party publicly acknowledged their relationship. In June 2018, Jonas took Chopra as his date to his cousin's New Jersey wedding. Later that same month, Chopra and Jonas flew to India to visit Chopra's mother.
"It's a huge deal that Nick brought Priyanka to his cousin's wedding," a Jonas source told People.com. "He's dated a lot over the last couple years but it's never been anything serious, so this is a big step. Nick and Priyanka really like each other, and his family enjoyed getting to know her as well. She fit right in!"
Chopra and Jonas were also spotted wearing matching gold rings at the beginning of July. Promise rings? Wedding rings? Fans weren't sure, but now the stars are aligning.
Neither Jonas nor Chopra's camps have responded to the engagement report, but if true, we're sending them so many congrats.