There's going to be a "Princess Diaries 3" starring Anne Hathaway because dreams come true
This is not a drill: Anne Hathaway is in talks to reprise her role as Mia Thermopolis in a third Princess Diaries movie! And this time, she goes by Her Majesty Amelia Mignonette Thermopolis Renaldi, Queen of Genovia, thankyouverymuch.
If this movie gets the green light (so far, director Gary Marshall and Hathaway are "in talks), it will totally make our day. Our month. Our year! The Princess Diaries was our first introduction to Anne Hathaway, and we've loved her ever since.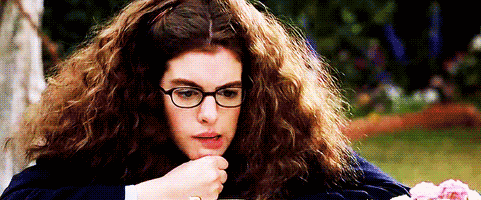 "I was with Anne Hathaway a couple weeks ago, it looks like we want to do Princess Diaries 3 in Manhattan," Marshall told People. "Anne Hathaway is very pregnant, so we have to wait until she has the baby and then I think we're going to do it."
Hmm, we wonder what could bring Mia to New York City? Possibly a meeting at the UN? A touristy vacation? Only time will tell, but we're looking forward to another installment of this modern-day fairytale. And we hope that Julie Andrews, Hector Elizondo, Heather Matarazzo, and Raven-Symoné reprise their roles. Chris Pine, too!
"He's quite big now, you know," said Marshall of the actor who played the charming Nicholas Devereaux. "Chris Pine likes me, you know why? Because his father is in Mother's Day!" he added, referencing his upcoming film.
Unfortunately, Princess Diaries 3 will probably have to wait a bit. Like Marshall said, Anne is very pregnant right now. And after she has the baby, she probably won't go back to work right away. But we're happy to know that it's on her radar! Now, on to finding a charmingly chubby cat to play Fat Louie II.