Princess Charlotte just made feminist history after the birth of her little brother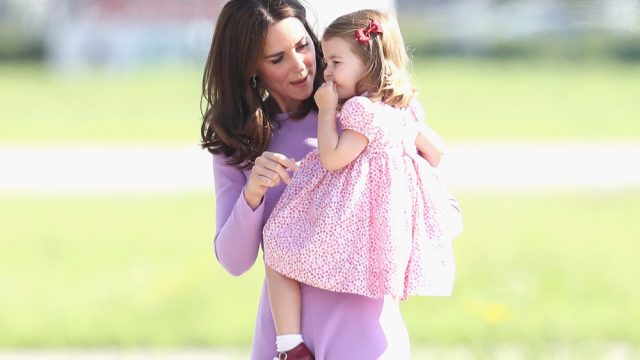 We can't be the only ones who are totally freaking out over the exciting news that Kate Middleton has given birth to her third baby, giving Prince George and Princess Charlotte a little baby brother. Our favorite royals are officially a family of five. As we wait patiently for more details about the new royal baby, we're also thinking about how incredible it will be when George and Charlotte meet their brother. But since royal baby number three is a boy, we couldn't help but wonder if his birth means that Princess Charlotte will lose her spot in line for the throne.
As it turns out, even though he's a boy, the new royal baby's birth just set a historic precedent. Princess Charlotte just became the first female royal to keep her spot in line for the throne even after the birth of a younger male heir.
Progress, people.
Royal baby three will follow his grandfather, Prince Charles, his father, Prince William, and siblings Prince George and Princess Charlotte in line for the throne, with uncle Prince Harry getting bumped to the sixth spot in line. Traditionally, the birth of a male heir would have forced Princess Charlotte to relinquish her position. However, per the Succession to the Crown Act of 2013, which passed while Kate was pregnant with George, she officially will keep her spot in line, regardless of the gender of any younger siblings.
The Succession states, "In determining the succession to the Crown, the gender of a person born after 28 October 2011 does not give that person, or that person's descendants, precedence over any other person (whenever born)." This means that even though their third baby is a boy, Princess Charlotte is still fourth in line for the throne.
So not only is she now a big sister, she also just made history in a cool, feminist way. Congrats, little lady.
We are thrilled for William, Kate, George, and Charlotte as they celebrate the birth of their new little one, and we cannot wait to meet him. We're sending all our love and congratulations to the royals.