Prince William just opened up about making his children's mental health a top priority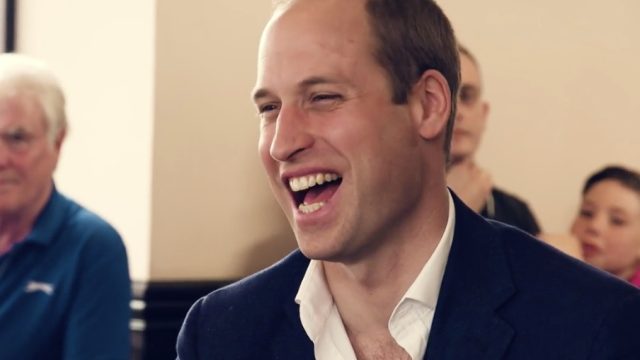 Prince William, one of our favorite dads, is celebrating Father's Day this year by bringing attention to an important cause: mental health.
William's mom, Princess Diana, was instrumental in increasing awareness about mental health, so it seems fitting that the prince is following in her footsteps in this way. William, along with his wife, Kate and his brother, Prince Harry, have formed a charitable organization for the sole purpose of supporting mental heath. Heads Together seeks to break down the stigma of mental illness and offer help to people struggling with all kinds of mental health challenges. For Father's Day, Heads Together hosted a special breakfast last week at Caffe Nero in London, where Prince William met with different dads and their kids to chat about the importance of communication. It's all part of a campaign to urge families to celebrate Father's Day with conversation.
They shared a video from the breakfast on Twitter, and TBH we might be falling in love with Prince William. He's completely charming, laid back and compassionate. If you've ever wondered what it might be like to chill with him at Starbuck's (come on, you know you have) take a look: false
Prince William also penned a special Father's Day essay for Heads Together, which he opens by saying, "Today I celebrate my third Father's Day as a father. For me it is a day not just to celebrate how fortunate I am for my young family, but to reflect on just how much I've learned about fatherhood and the issues facing fathers in all walks of life. In particular, it is a time to reflect on my responsibility to look after not just the physical health of my two children, but to treat their mental needs as just as important a priority." false
Can we get an AMEN?!
Props to Prince William for talking about this important issue and doing everything he can to bring the discussion of mental health to the forefront. His essay goes on to discuss the importance of getting dads to talk to their children about feelings and emotions, which is where the idea for #celebratewithconversation came from. He writes, "We know that fathers find asking for help harder than mothers. Less than a third of fathers say they believe that the emotional needs of their children is a fundamental priority. It is often said that fathers can often find it hard to talk about their own feelings so there's no wonder they struggle to speak to their son or daughter about the topic…So on this Father's Day, I encourage all fathers to take a moment to ask their children how they are doing. Take the opportunity to discuss how you are coping with life and fatherhood with your wife, partner or with your friends. And know that if your son or daughter ever needs help, they need their father's guidance and support just as much as they need their mother's."
You can read Prince William's essay in its entirety here.
We love that Prince William is committed to being an awesome dad to Prince George and Princess Charlotte, as well as to helping other families communicate. Father's Day is bittersweet. It can be a happy day of celebration for some, but for people who have lost their dads or have a strained relationships with their fathers, it's a difficult time. Be sure and celebrate today with conversation, whether it's with your dad or someone else who might need a sympathetic ear.