People were blown away by the Prince tribute at the BET Awards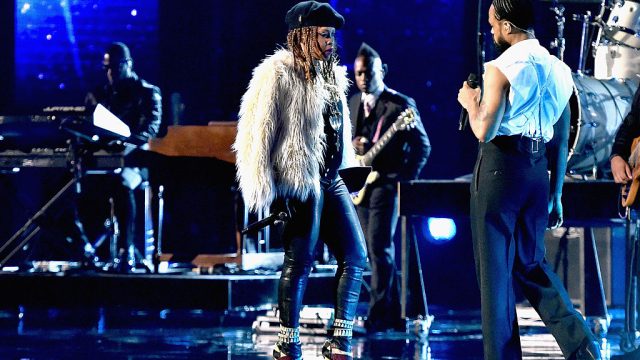 The 2016 BET Awards shook the Microsoft Theatre in Los Angeles on Sunday, June 26, bringing a knockout roster of Prince tributes that had fans going wild.
The Roots, Erykah Badu, Bilal, and Jennifer Hudson were some of the musicians who kicked off the tribute: The Roots backing Erykah as she sung "The Ballad of Dorothy Parker" and Bilal as he did "The Beautiful Ones." Stevie Wonder and Tori Kelly took the stage to perform "Take Me With U," followed by an appearance from Jennifer Hudson, who belted "Purple Rain," sending Twitter into a tizzy about her vocal prowess.
Maxwell sang an emotional rendition of "Nothing Compares 2U," while Janelle Monáe did her mentor proud by performing "Delirious," "Kiss," "Pop Life," and "I Would Die 4 U" in a pair of assless chaps (Prince wore a similar ensemble at the 1991 MTV Music Awards).
Sheila E, Prince's ex-fiancé and musical collaborator, also did a mashup of a bunch of Prince's hits, including "Erotic City," "Let's Work," "The Glamorous Life," and "Baby I'm a Star."
After some fans expressed disappointment at the Prince tribute at the Billboard Music Awards last month, BET tweeted, "Yeah we saw that. Don't worry. We got you." It seems like the network was correct, because people are LOVING the performances.