Prince Harry and Prince William had to release a joint statement to shut down bullying rumors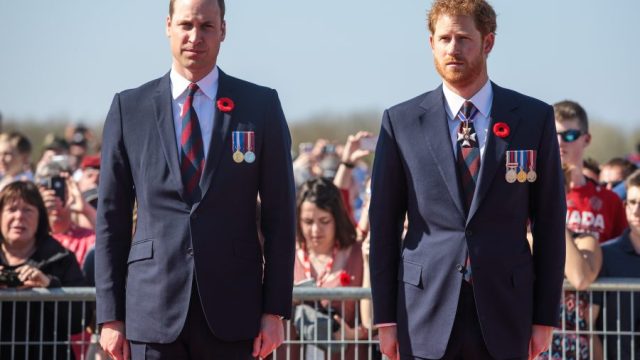 Another day, another royal rumor to debunk. The Royal Family has been flooded with rumors of feuds and bullying since Meghan Markle and Prince Harry got married in 2018. The British press has targeted the dukes and duchesses of Cambridge and Sussex, making harsh speculations about the dynamics between the couples. In the wake of Meghan and Harry's huge news last week, the princes are saying enough is enough.
In case you missed the historic announcement last week, Prince Harry and Meghan Markle issued a statement saying that they are stepping back from their "senior royal" duties in 2020. The duke and duchess of Sussex plan to split their time between the U.K. and North America and to become financially independent. Although their exact role is yet to be determined (they are reportedly "talking things through" with the Queen today, January 13th), this is a monumental move that no one was expecting.
Surprise, surprise—people tried to pin the couple's decision on someone else, spreading rumors of a feud between the brothers. A spokesperson for both princes spoke out today denying the royal feud.
"Despite clear denials, a false story ran in a UK newspaper today speculating about the relationship between The Duke of Sussex and The Duke of Cambridge. For brothers who care so deeply about the issues surrounding mental health, the use of inflammatory language in this way is offensive and potentially harmful."
It's unclear which story the statement is referring to, but royal reporter Rebecca English tweeted some inside scoop. "It's clear from my conversations this morning that BOTH brothers are deeply, deeply unhappy about suggestions that Harry feels he has been 'bullied' out of the Royal Family by William," she wrote in the tweet.
The thing is, we will never know what really goes on inside the walls of Buckingham Palace, and speculating does no good. It's only harmful to the royals' relationships. These are real people making real-life decisions, so let's let them be, shall we?