Prince Harry and Meghan Markle's royal wedding thank you cards are here, and they're pure and perfect #weddinggoals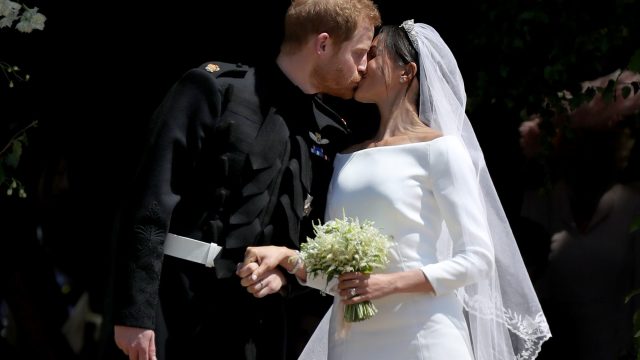 Ever wonder what would happen if you wrote to the royal family? Now you don't have to. As British royals, Meghan Markle and Prince Harry clearly have impeccable manners, so of course they mailed wedding thank you cards to fans who sent their well wishes to them for their new life together — and yes, before you ask, they're the most adorable thank you notes ever.
As Cosmopolitan pointed out, less than two months after Markle and Harry tied the knot, the notes are out and fans are slowly starting to receive them. An Instagram account called Royal Letters shared a photo of the thank you cards, and OMG, we're dying.
The card, which includes an envelope stamped with a crown straight from Kensington Palace, is printed on a postcard featuring a photo from Markle and Harry's wedding day in black and white — a seriously classy portrait.
Behold:
"The Duke and Duchess of Sussex have been overwhelmed by all the incredibly kind cards and letters they have received on the occasion of their Wedding, and are so touched that you took the trouble to write as you did," the note on the back of the card says. "It really was most thoughtful of you and greatly appreciated by Their Royal Highnesses who send you their very best wishes."
It's not exactly a personalized letter, but they're offering their "very best wishes." Very best wishes, people. From Prince Harry and Meghan Markle. How sweet is that? And to be totally honest, we're seething with jealousy that we didn't receive one of these cards — maybe next time a royal wedding rolls around, we should all agree to send our congratulations?
So far, it seems like Markle and Harry are loving married life, and we couldn't be happier for them. If you need us, we'll be here waiting for the happy couple to make their next joint appearance so we can see new photos of them in action.