King Charles May Exclude Prince Harry and Meghan Markle From Balcony Coronation Celebration
Prince Harry and Meghan Markle are still waiting for their invitation to King Charles's coronation.
Prince Harry wasn't lying when he said the ball is in Buckingham Palace's court on whether or not he'll attend King Charles' coronation. On Saturday, Jan. 21, the palace issued a press release with further details on Coronation Weekend — and let's just say, the language leaves some to believe that Harry and Meghan Markle are being left off the VIP list.
What people want to know is if Harry and Meghan are invited, what all will they be asked to (or not to) attend and what will their seating arrangements look like. Will they be seated with the King's guests or next to Prince William and Kate Middleton?
The Buckingham Palace post-ceremony balcony celebration could be another moment of contention between Harry and his estranged family. Should the Duke and Duchess of Sussex not be invited up to the balcony, not only would they miss out on celebrating as a family, but it's a huge photo opp.
RELATED: Prince Harry Finally Speaks Out About King Charles' Upcoming Coronation
The balcony has been an iconic fixture in royal British history since forever, from coronations to weddings to other major occasions. The institution would be sending a big message by not having Harry and Meghan part of those photos. One could argue, it's as if they're trying to erase them history.
According to the palace's announcement, the list of balcony attendees is as follows: "At Buckingham Palace, The King and The Queen Consort, accompanied by Members of the Royal Family, will appear on the balcony to conclude the day's ceremonial events."
So Buckingham Palace, what you're saying is there's a chance?
If it said "working members of the royal family," then we know Harry and Meghan would have been disqualified from the list as they stepped away from their royal responsibilities and duties — but not their titles, which actually doesn't make any sense when you think about it — when they moved to California.
But, that isn't the case. Thus, we could see a Charlies-William-Harry reunion come May.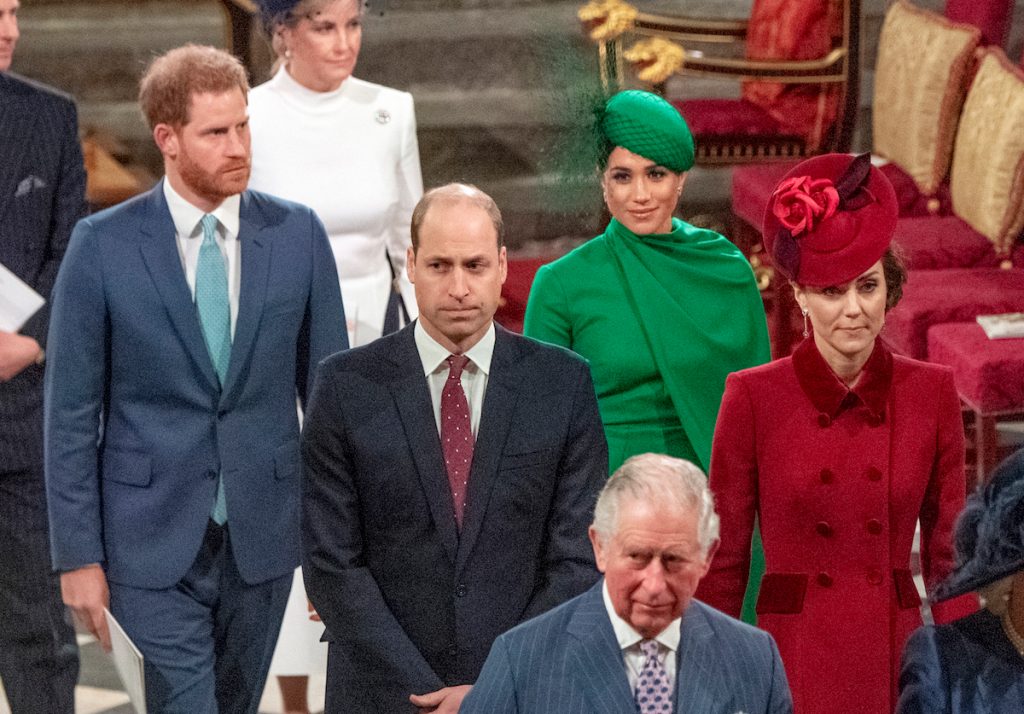 Once again, the palace is out here telling us something without really telling us anything at all. It's one big nothing-burger; but you know what isn't? The one thing everyone seems to be glancing over: King Charles' Coronation Weekend will take place during Archie's birthday. *Gasp!* Harry and Meghan's son will be turning 4 years old on May 6th.
So if Harry and Meghan do get invited to the three-day celebration, which runs from May 6th to May 8th, they'll be forced to make a decision regarding Archie's birthday. It's presumed that if the couple is invited, the invitation won't extend to their children, Archie and daughter Lilibet.
Not that they're asking for advice, but several royal experts have come forward suggesting it would be unwise of the couple to attend the King's coronation — not so much at the expense of Harry's father, but of the Britons.
The couple has been warned that a cold welcome could be awaiting them, especially given the events leading up to the release of Harry's memoir Spare. As of yet, they have not received a formal invitation from His Majesty. The official crowning ceremony will occur at Westminster Abbey.
Obsessed with all things royals? Spare is officially available wherever books are sold. You can also hear from the Duchess of Sussex directly in the couple's Netflix docuseries titled Harry & Megan, which is available to stream in full now.
Emily is a NYC-based freelance entertainment and lifestyle writer — though, she'll never pass up the opportunity to talk about women's health and sports (she thrives during the Olympics).
Read more