Prince Harry and Meghan Markle were caught goofing off behind-the-scenes of their recent interview, and it's adorable AF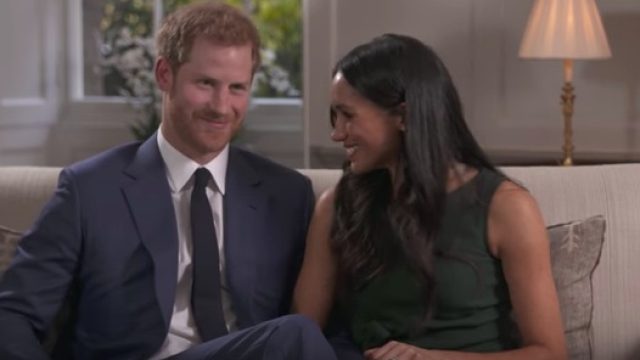 Love is in the air in a big way this week — at least for Prince Harry and Meghan Markle. The couple announced their engagement yesterday, setting off a social media flurry. But despite the international attention, the lovebirds have remained focused on each other. And in a recent interview with the BBC, the royal and actress showed off just how perfect they are for each other.
The interview, which aired after the engagement announcement, was a standard affair. Questions about the wedding, family, and future plans were the main focus. The truly memorable moments came from the outtakes, which the BBC has since shared to the delight of millions. Prince Harry and Markle cracked jokes and giggled wildly throughout the interview. The couple also good-naturedly poked fun at each other, and they appeared happy and relaxed despite being on camera.
Seriously — Markle and Prince Harry could barely stop smiling at each other long enough to answer questions. The interview outtakes left viewers with a strong sense that these two are madly in love.
Prince Harry and Markle began dating back in 2016. The couple has split their time between his home in England and hers in Toronto, where she was filming her hit television show Suits. This will reportedly be Markle's final season on the show, and the wedding is scheduled for May of 2018.
Here's the outtakes (the BBC released them without sound, so don't worry, there's nothing wrong with your comp):
https://www.youtube.com/watch?v=CX2FgpDwIrc?start=2&feature=oembed
You can watch the full interview (with sound) here:
https://www.youtube.com/watch?v=LQicq60aJaw?feature=oembed
So many congrats, guys! We're giddy.