Here are all of the best tweets about Prince Harry and Meghan Markle's royal news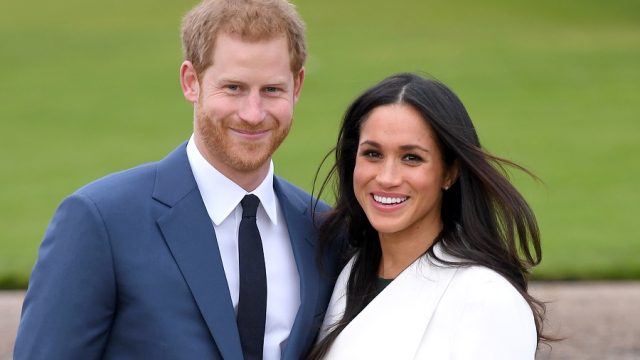 In case you've been ostrich-ing your head in the sand, Prince Harry and Meghan Markle announced that they're taking a "step back" from their duties as "senior" members of the royal family and are working to become financially independent. The Queen, however, responded with a statement that boiled down to "excuse me, but not so fast." The major royal news and subsequent rumored turmoil sent all of us reeling, and it resulted in some fairly epic responses from us commoners on social media.
It all started when Harry and Meghan used their Sussex Royal Instagram account to make this historic announcement.
"After many months of reflection and internal discussions, we have chosen to make a transition this year in starting to carve out a progressive new role within this institution. We intend to step back as 'senior' members of the Royal Family and work to become financially independent, while continuing to fully support Her Majesty The Queen," their caption read.
The statement went on to say that the couple and Baby Archie would split their time between the U.K. and North America, and they would be moving forward with charitable endeavors un-associated with the royal family.
The Queen's (ahem) curt reaction was only two lines, which honestly itself speaks volumes: "Discussions with The Duke and Duchess of Sussex are at an early stage. We understand their desire to take a different approach, but these are complicated issues that will take time to work through." The tension!
On Twitter, reactions were often far more charitable to Prince Harry and Meghan Markle. Many believed the couple was an example of self-care #goals.
The couple is currently embroiled in a lawsuit against British tabloids for their "intentionally" destructive" (their words) and often racist (our words) coverage of Markle. It's safe to say it hasn't been the easiest time in the spotlight for these two. So it's been the writing on the wall for a while that they've wanted a change. One Twitter user reminded us all of Markle's heartbreaking interview about her mental health.
https://twitter.com/udfredirect/status/1215014136368771072
And others are following suit, praising their self-care.
https://twitter.com/udfredirect/status/1215012302946217986
But that doesn't mean that people weren't having a little fun with the royal announcement, too.
It's like Meghan and Harry are living out a fairy tale that's even more modern and progressive than Frozen.
One Twitter user raises the question that is truly on everyone's mind:
And another drops truths about "resigning" from families and who historically has had to make that decision:
Caitlin Moran dropped different truths about the couple's financial contributions amid backlash in response to their becoming financially independent. false
Amy Schumer, whose pregnancy coincided with Markle's with Archie, again aligned herself with Harry and Meghan and made her own official announcement, which was met with lots of love from her celeb friends in the comments.
We wish you the best, Harry and Meghan!