Prince Harry's adorable nickname for the royal baby is here to brighten your day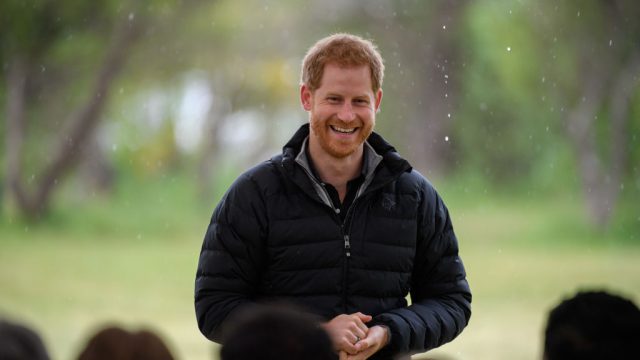 Prince Harry and Meghan Markle's current royal tour in Australia, New Zealand, Fiji, and Tonga has given us a pregnancy announcement (and a baby bump), outfit inspo (including a total Mia Thermopolis moment), and some cutesy PDA (why are they so perfect?), but as their tour continued in New Zealand, the Duke and Duchess of Sussex blessed us by revealing the official royal baby nickname.
During a rainy trip to Abel Tasman National Park in New Zealand on Monday, October 29th, 2018, Harry debuted the adorable royal bun-in-the-oven's nickname to the crowd after learning more about the park's local conservation effort.
"From myself and my wife and our little bump, we are so grateful to be here. We bring blessings from my grandmother the queen and our family," he told the crowd before bursting into the cutest and most life-affirming smile we've ever seen.
Did you hear that? "Our little bump." *Swoons forever.*
After Harry's lovely speech, the couple stopped by Courtenay Creative—a training center that helps young people learn about and work in the film industry. Clearly in her element at the creative center, the former actress rocked a white sleeveless tuxedo dress by New Zealand designer Maggie Marilyn. Side note: Because Meghan loves an all-white ensemble, she notably wore an actual wedding dress to a state dinner in Tonga last week.
During the white tuxedo dress moment, Meghan embraced her growing bump and now we can't tell if this or the "our little bump" moment is cuter.
https://twitter.com/udfredirect/status/1056895160590553088
The royal baby isn't due until 2019, so get excited for months and months of royal baby, baby bump, and "omg awww" content.