We just saw the first preview of Bruno Mars doing Carpool Karaoke, and it's fantastic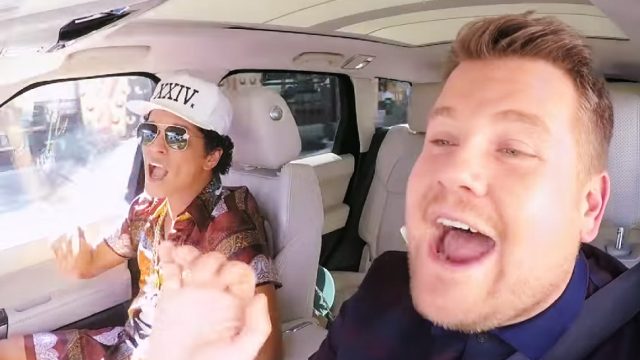 We seriously just can't get enough of James Corden's Carpool Karaoke segments. This year, we've had a few biggies — Britney Spears and Madonna, notably. But we're so excited over the announcement that Bruno Mars will participate in Carpool Karaoke, especially because we find ourselves singing along to his songs during our morning commute.
While the announcement was made earlier this year, Corden gave us a preview of the segment on last night's The Late Late Show — from the looks of it, Bruno Mars is an incredible passenger. In fact, he looks like he's having more fun than Corden himself!
We're wondering how many songs Mars will sing off of his new album, 24k Magic, which was just released on November 18th. (We haven't started memorizing the lyrics fully, and want to be prepared.)
Here's the preview of the big segment:
https://www.youtube.com/watch?v=AYBzG3mk0YQ?feature=oembed
It looks like the title track will definitely be sung. We're also guessing that "Locked Out Of Heaven" and "Just the Way You Are" probably have to be included as well — right?
 We'll know for sure very, very soon. It's definitely the holiday gift we didn't even know we wanted. Not only do we know for sure that Bruno is going to totally nail it, but we have a feeling that there'll be so much great chemistry between the two!