Pretty Little Liar Troian Bellisario opens up about her history with anorexia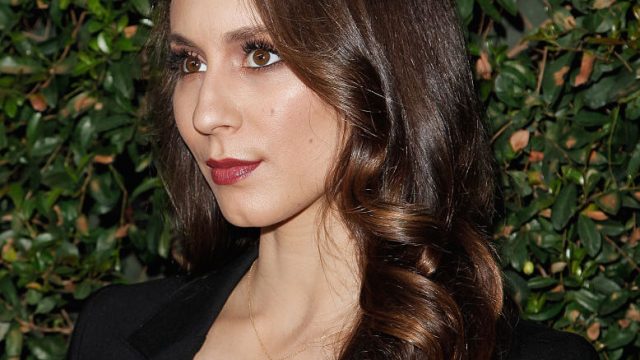 With Election Day on November 8th (tomorrow!), one Pretty Little Liars star felt the need to speak up about who she is voting for. Specifically, Troian Bellisario shared that she used to be anorexic while encouraging people to vote during a PSA for ATTN: — and explained why she is voting for Hillary Clinton.
Regardless of your personal politics, Bellisario's PSA is incredibly meaningful, since she discussed how important mental health care is and opened up about her past experiences with the eating disorder anorexia.
"With anorexia, a lot of it is about presenting a front of 'everything is okay' as you're slowly killing yourself," Bellisario explained. "Gone were the days where I was just a happy, carefree kid who was running around. And suddenly I felt this inability to interact with people and to nourish myself."
Beyond just sharing her own mental health story, the ATTN: PSA was a way for Bellisario to explain why she thinks mental health is an important factor to consider for this presidential election — and why it's one of the major reasons she's supporting Clinton:
"Specifically because [Clinton] has been such a huge advocate for health care and her definition of health care includes mental health care."
She went into even more detail on her Instagram post for the ATTN: video.
Other celebs have also been outspoken in their support of Clinton based on her proposed health care plan — like Demi Lovato at the 2016 Democratic National Convention. And this wasn't the first time the actress who plays Spencer Hastings had discussed her battle with the eating disorder.
In a 2014 interview for Seventeen magazine, she said:
"I would withhold food or withhold going out with my friends, based on how well I did that day in school. Being a teenager is chaotic because you're kind of coming into your own, but you're not an adult; you're fighting with your parents over responsibilities and freedom. I didn't know what was right and what was wrong, so I think I created this bizarre system of checks and balances to create order in my world. But it really backfired."
After the Seventeen article came out, Bellisario's Pretty Little Liars costars, like Shay Mitchell, acknowledged her bravery.
Even though Bellisario has come a long way since her days as a teenager, as her voting PSA and Seventeen article show, battling mental illness is not something that necessarily ever goes away — and it needs to be taken seriously by leadership in our country.
"I just want to make sure that everybody has the same opportunity for treatment that I have, and I think that we have to make sure that our government invests in those programs," Bellisario said in the PSA.
Whether it's an election year or not, mental health and eating disorders should always be part of discussions on health care. But since it is an election year, why not take Bellisario's advice and vote on November 8th to let your voice be heard.