Amazon shoppers are obsessed with this fluffy, oversized fleece jacket—and it's only $32
As the weather starts to cool down, you're probably going through your fall wardrobe and deciding what you still want to wear, putting aside what's no longer in season. If you're looking to replace a few items, Amazon shoppers have quite a few recommendations for cold weather essentials. From super cute sweater dresses to cozy tops, there's a good selection on the retail giant—including stylish (and affordable) jackets, like this shearling coat.
In case you missed it, shearling jackets have been all the rage the past few seasons, and we have a feeling the phase will kick back into full swing soon.
Whether you never got your hands on one or want to add another to your collection, Amazon customers have crowned this Pretty Garden Faux Shearling Jacket one of the best you can get. The coat is the number-one best-seller in Amazon's Women's Fur & Faux Fur Jackets category, with over 600 perfect, five-star reviews. The ultra cozy coat comes in tons of different colors, including black, brown, and dark green, and two different styles, with zipper or button closures.
Pretty Garden Faux Shearling Jacket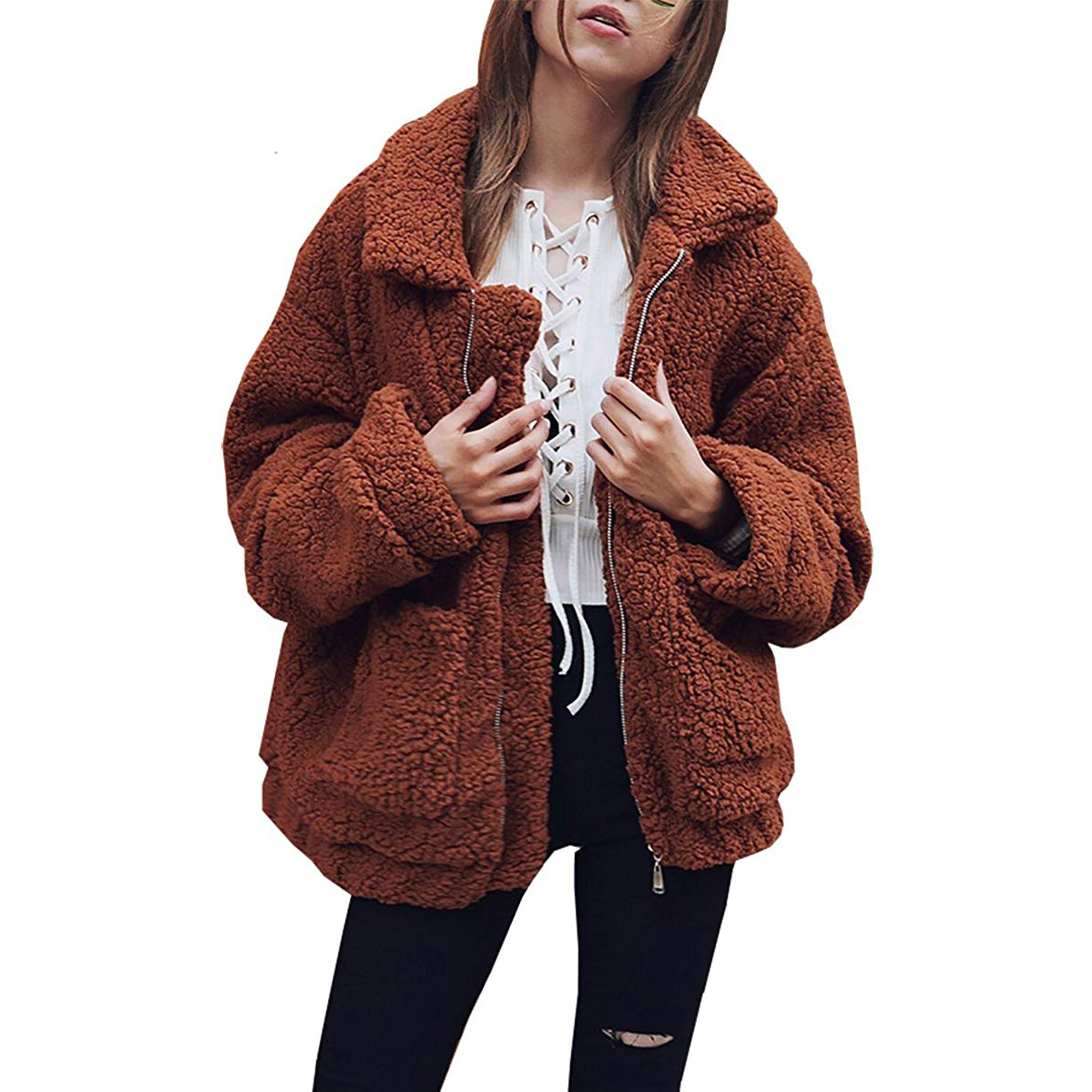 Shop it! $31.99, amazon.com.
Shoppers often say the coat is super cute, soft, and fits well. One reviewer even said it's the "perfect dupe" for Urban Outfitter's top-rated fleece jacket, and "Emma Chamberlain's overpriced coat."
"[The jacket] matches virtually everything in my wardrobe. Because duh, it's brown. As far as comfort, 5 stars. I thought Amazon delivered me the wrong thing at first, because the package was rock hard, but the jacket comes in an airtight sealed bag and this bad boy practically explodes out of it when opened, bringing forth the fluff. It's so soft and moves around freely. This jacket feels like what I imagine cuddling unicorns is like. Heaven, another shopper wrote.
"There's plenty of room for me to curl up in this thing without looking swallowed by it, which I truly appreciate. As far as actual warmth, well 5 stars on that too. My job keeps it 60 degrees which is why I bought this, and for once I'm not constantly shivering."
Customers say if you want the jacket to look oversized (similar to the model photos) or want to wear layers underneath it, you should size up one or two sizes—and if you're nervous about that, rest assured that it will look "bigger without looking awkward."
Bottom line? If you're on a budget and looking for a soft, warm, and stylish coat for the incoming chilly days, the Pretty Garden Faux Shearling Jacket might just be what your wardrobe is missing.