These young students fearlessly protest to end natural hair discrimination at their school, and we couldn't have been more inspired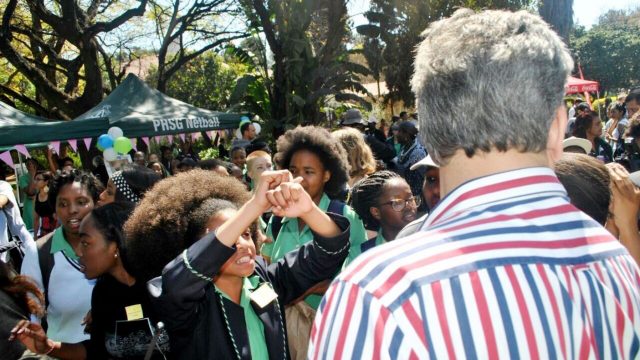 From Kentucky to South Africa, and everywhere else in between, young black girls are protesting for the right to wear their natural hair. This isn't a case of an employer deeming afros "unprofessional" for the workplace. These are high schoolers fighting their boards of education for the right to wear their kinks in the classroom.
Just as in Kentucky, where the #SupportThePuff hashtag originated, young black girls at the Pretoria Girls High in South Africa have been pictured passionately protesting administrators. Their mission? To put an end to racism in their community. Because, it's not just about hair.
According to the BBC, not only have the students been told to straighten their hair on multiple occasions, they were also banned from speaking their native languages while on campus. And thus, another hashtag has been born in support of these dynamic and fearless young ladies – #StopRacismAtPretoriaHigh.
Former Dancing with the Stars contestant, RedFoo of LMFAO, had a similar experience when the show's judge, Len Goodman, made a shrewd comment about his hair. On the season's premiere, Goodman called RedFoo's afro "wild and unkempt," causing quite a stir within the natural hair community. RedFoo is a black American male, and just like other black Americans, his hair is meant to defy gravity. To criticize blacks for rocking the shape and texture that their hair naturally grows into is demeaning, to say the least.
Giuliana Rancic felt the wrath of the natural hair community when she stereotyped Zendaya and her faux locs as smelling like "patchouli oil and weed" during an episode of Fashion Police. With the help of the viewers (and the network), she immediately realized the offensive nature of her comment, and promptly made a public apology to everyone she may have hurt.
Making jokes, giving backhanded compliments or enforcing rules with racial undertones about someone's cultural identity, on air or off, is never okay. And, telling students that they have to alter their appearance, and or, erase their culture in order to "not cause a disruption" will only – you guessed it – cause more disruption.
"This is about our identity as black people," said a young Pretoria Girls High protester to the BBC. "We're tired of being told to be less than what we are so we can fit in."
The courage that these women across the globe possess is remarkable. I can't say that I would've been as brave as they are at such a young age to stand up against racism this powerfully.