Joe Biden and Kamala Harris Are Officially Projected As Winners of the U.S. Presidential Election
It's a historic moment for the country.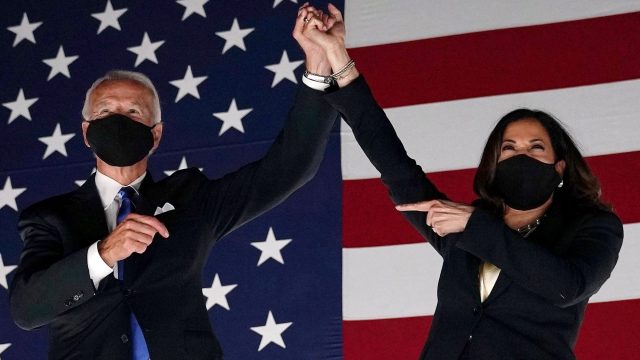 We have an official projection. After four days post-Election Day 2020, former Vice President Joe Biden and Senator Kamala Harris are being projected by both The New York Times and the Associated Press as president and vice president-elect of the United States. It's a historic win for the country; Harris was the first Black woman and Asian American on any major party ticket for a presidential election, and now, she will be the first Black woman and Asian American to serve as vice president.
News first broke of the possible projected win for Biden the morning of Friday, November 6th, when it was stated by The New York Times that Biden had taken the lead and flipped two key states, Georgia and Pennsylvania, which are two states that President Trump won during the 2016 election. This was another victorious win for Democratics after days of patiently waiting for mail-in ballots to be counted for them and other key states, such as Nevada, Arizona, North Carolina, Alaska, and flipping swing states, Wisconsin and Michigan just a few days prior.
Several celebrities and activists took to social media to celebrate the historic moment for Harris and President-Elect Biden.
From here, current president Donald Trump enters the "lame duck" period of his term until Biden and Harris take office in the White House. The inaguration ceremony is scheduled for January 20th, 2021.