President Obama's official White House photographer just casually hung out with Frank Underwood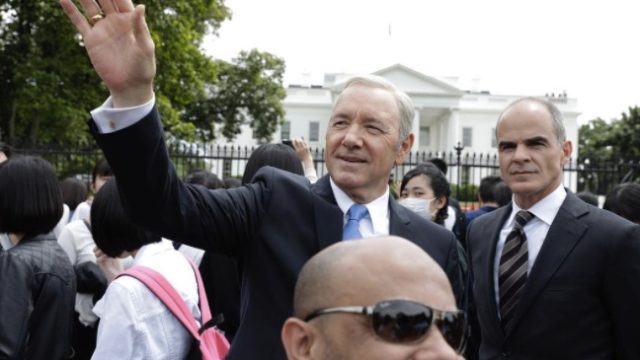 From Obama to Underwood — two of the most famous Presidents of the last decade. Okay, so we know Frank Underwood is a *fictional* character from Netflix's House of Cards, but he got the presidential treatment when former White House photographer Pete Souza joined Underwood on the campaign trail.
Just when you thought politics couldn't get any crazier. Now we have fictional presidents on *fake* campaign trails. While Francis Underwood has been around for a while, it appears as if Washington, D.C. rolled out the red carpet for this "campaign stop."  Pete Souza  — who you might know as the guy on Instagram who posts adorable photos of the Obamas) — tagged along for the day, capturing all sorts of patriotic moments. Like this one:
https://www.instagram.com/p/BUaC6nAFkbC
Since Souza is done with his White House photographer duties, he had time to join President Underwood and his Chief of Staff, Doug Stamper (played by Michael Kelly), on their recent visit to the area. They visited a few spots that you might recognize.
Like Union Station alongside his secret service protection:
https://www.instagram.com/p/BUZqtdPlXfG
And of course no visit to DC is complete without checking in on the White House:
https://www.instagram.com/p/BUar6-iliyP
He even got to ride in the Presidential limo, which looks pretty intense:
https://www.instagram.com/p/BUao2i0l1FK
Well, Frank certainly looks Presidential in these photos! But can he hold on to his position of power as his administration begins to crumble around him, and all sorts of lies start to spring to the surface! Crazy that this is all fiction!
Check out all of the photos on Pete's Instagram page — plus just a ton of other amazing pics. Wondering about the timing of all of this? Season 5 of House of Cards will be available for streaming on May 30th on Netflix.