The president of France spends a shocking amount of money on makeup, and people are not pleased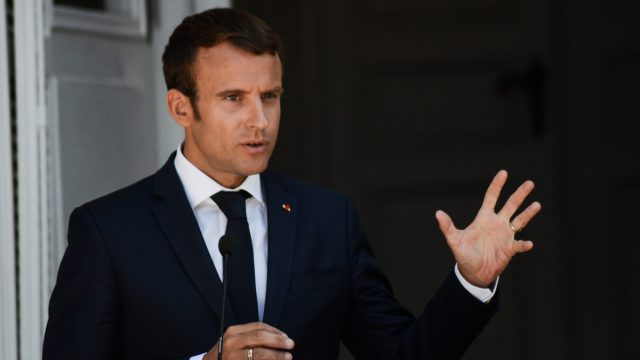 We're not sure if it's Maybelline, but based on his makeup budget, we do feel safe enough to say maybe Emmanuel Macron wasn't born with it. Within the first three months of his presidency, the French president has reportedly spent 26,000 euros (about $30,000) on his personal makeup, and many people are not happy about it.
The shocking figure has prompted criticism across social media, as many are left wondering: Why does a president need to spend more than 250 euros a day on makeup and makeup artists at the expense of taxpayers? Yikes.
The 39-year-old politician, who this year became France's youngest president since Napoleon, is known to take great pride in his looks, and kept a personal makeup artist on hand to touch up his mascara during his leadership campaign. But for the people of France, enough is enough.
According to a spokeswoman for Macron, the president's team is currently implementing a plan to reduce the expenses.
"We are putting into place a long-term set-up that will be significantly less expensive than these bills, and less expensive than the system in place during previous presidential terms, she said.
The makeup bills also come a month after Macron announced the government was going to cut a type of housing benefit by five euros a month, which will affect millions of people in France including the jobless and people living below the poverty line.
Unfortunately, the recent beauty-related revelations are not likely to do any good to Macron's plummeting popularity. And he might need more than mascara to get this back on track.
But Macron isn't the only president who has been a little high maintenance. His predecessor, François Hollande, is said to have paid his makeup artist and hairdresser a monthly net salary of 6,000 euros and 10,000 euros, respectively.
As for us, after seeing these numbers, we might be trying to figure out how to become the next French president. Or at least the president's make-up artist.