Prepare to scream with joy, because BeautyBlender's collabs with Too Faced and Benefit are HERE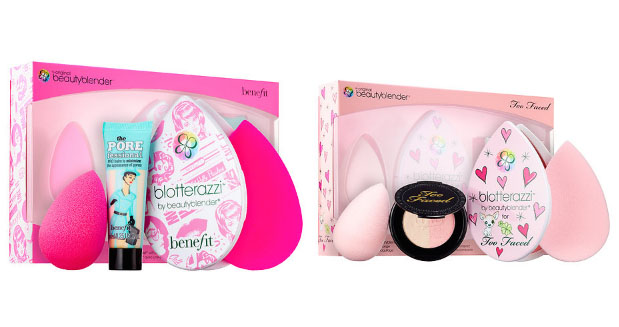 Um, YASSS. BeautyBlender, the totally gamechanging beauty tool that helps you blend out your makeup in fool-proof fashion, has teamed up with two of our other favorite beauty brands and we basically can not contain our excitement.
Now, holiday value sets always get us a little weak in the knees, but these ones are next level. While we are always fans of single-brand value sets, we're pretty intrigued by the concept of these ones. BeautyBlender is completely unlike most other beauty brands out there: The team essentially built a whole brand around one product, and while they sell a few versions of the classic BB and some cleaning accessories for the sponges, this is basically a brand that centers around a single product and simply does it better than anything else out there.
That's why we think it's so genius that they've teamed up with two other brands to release these particular sets. One of them is a collab with Benefit and combines the classic pink blender and a Blotterazzi sponge (a reusable alternative to oil-absorbing papers) with Benefit's "POREfessional" face primer. Basically, all three products will keep the rest of your makeup on fleek.
If primer isn't your thing, you'll be stoked to hear that BB is also collaborating with Too Faced to package the traditional sponge (albeit in a gorgeous light pink color) with a matching Blotterazzi as well. The only difference is that this time, the tools will come along with a deluxe sample of Too Faced's incredibly pretty Candlelight Glow powder in a flattering pink shade called "Rosy Glow."
Both sets will run you just $40. Not too shabby when you consider that a BeautyBlender alone costs $20!