Prepare to get obsessed: ColourPop's perfectly fall Terracotta collection launches today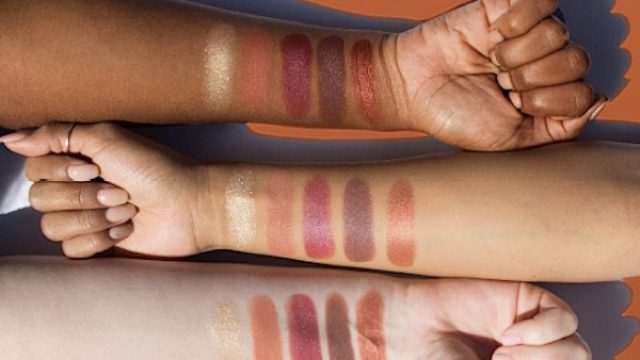 Whoever said fall was just the filler season between summer and the holidays was seriously disturbed.
Believe me when I tell you, FALL IS THE BEST.
This is the time of year when makeup brands serve up the best colors. Shades of brown, gold, orangey-rust colors that are perfect for a daytime crease, oh yeah— it all goes DOWN during fall. This is the season when there are so many good lipsticks flying around that you can finally find a good nude to match your skin tone if you're brown-skinned. (Two words: stock. up.)
Colourpop's Terracotta collection is the epitome of autumnal glam.
The collection includes seven lip colors, two satins, two mattes, one ultra glossy, one Lippie Stix, and one Lippie Pencil. The model above is wearing Love Bug, a matte terracotta that's pretty much the liquid lipstick equivalent of a pumpkin spice latte. Except, ya know, not basic.
At $5 a pop, you could totally spring for all six of the shadows/pigments. And since they're all pretty universal shades, you won't regret it even when you're totes over fall makeup and are breaking out the jewel tones for winter. The model above is wearing Elixir and Seeker, a true terracotta and reddish brown that deserve year round love on your lids.
The Bardot blush (the bronze closest to the wrist of the top model) is another standout from the collection. Gorgeous, universally flattering, and so damn fall it hurts.
Shop the collection NOW!