How to prepare for Samhain, the witch's New Year, during the Full Hunter's Moon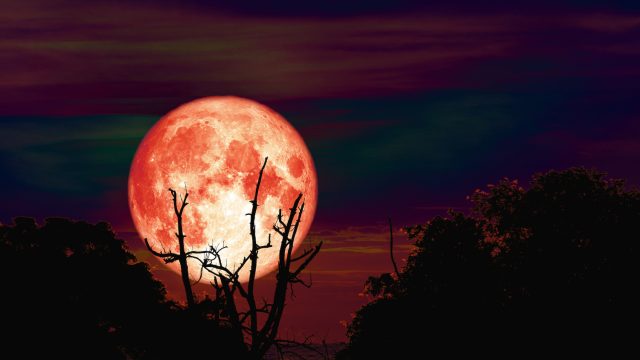 On Sunday, October 13th, the Full Hunter's Moon will peak in the evening sky at 5:08 p.m. EDT. And just like a perfect pumpkin ripe for carving, October's full moon will appear larger and more orange than a typical full moon. We're taking this as a sign that the Full Hunter's Moon is a prime opportunity to ready ourselves for the upcoming holiday, Samhain (or Halloween) on the 31st. If you're in the mood to get down to some witchy business during the full moon, we have a few ritual ideas to get you in the spooky spirit.
Because the Full Hunter's Moon will rise during sunset, we'll be tricked into thinking that it's larger and more orange than it actually is. This phenomenon is called the moon illusion.
"When the Moon is low, it is viewed in relation to earthly objects, such as chimneys or trees, whose size and shape provide scale," Bob Berman explains on Almanac.com. "Your brain compares the size of the Moon to the trees, buildings, or other reference points, and suddenly, the Moon looks massive!"
This low, orange-hued moon provides the perfect backdrop for concocting preparations for Samhain, the witch's New Year.
What is Samhain?
Samhain, which means "summer's end" in Irish, is a pagan holiday that marks the midpoint between the autumnal equinox and the winter solstice, as Judy Ann Nock writes in her book, The Wiccan Year. Celebrants reap the final harvest and recognize this time as their last chance to store provisions before the chill sets in.
When the sun sets on Samhain, the festivities begin.
Ancient pagans believed that the dead would rise and walk amongst the living during Samhain. They also believed that faeries would cause mayhem and mischief. Divinations were performed during the evening so young people could learn the names of their future betrothed, occupations, and opportunities. The dead were honored with rituals, food, and drink. Additionally, carved vegetables helped spirits find their way through the streets of the living.
Nowadays, Samhain is often referred to as Halloween or All Hallows' Eve, a more modern rendition of the pagan holiday. Irish and Scottish immigrants brought All Hallows' Eve to America during the 19th century. It is still widely practiced today, though many of the ancient traditions of Samhain have been pushed to the wayside. Halloween has become much more commercial, with costumes, candy, and haunted attractions.
This year, Mercury will go into retrograde on the 31st, so things may be spookier than you anticipated.
But don't let that stop you from having a good time. Just remember that communication may be a bit iffy during the holiday. To pay homage to Samhain, the origin of our modern Halloween, you can incorporate a few classic traditions into your festivities. And, as always, any rituals done during a full moon are more potent. So take advantage of the Full Hunter's Moon and get in the Samhain spirit. Here's how:
Carve apples to honor the dead.
We've all carved Jack-o'-lanterns before. But have you ever carved an apple? In Llewellyn's Witches' Datebook 2019, contributor Raven Digitalis writes of celebrating Samhain and our deceased loved ones with carved apples.
Do this activity in a party or coven setting, perhaps while sipping on some mulled wine or Glögg. (Check out our favorite Glögg recipe here). Give each person at the party a large apple and something to carve with—small paring knives or even X-Acto knives would do the trick. Tell them to carve the name of a deceased loved one, be they an ancestor, animal, or even celebrity.
Then, head outside at dusk, around moonrise. Ask the participants to meditate with their apple for a moment, remembering the person who passed. Have them speak a small personal prayer to themselves and then place the apples in a spot where wildlife will find them and eat them. You may wish to hang the apples on a low tree for deer. The apples will return to the earth as our ancestors have, and hopefully, the spirits of our ancestors will appreciate the offer.
Prepare your Samhain altar.
The days surrounding the Full Hunter's Moon are the perfect time to set up your altar for the upcoming sabbat, or holiday.
According to Ann Moura, author of Green Witchcraft, a Samhain altar should consist of a few things: orange altar candles, candles to represent the four elements (green, yellow, red, and blue), foliage and plants pertaining to the season (autumn leaves, pumpkins, gourds, Indian corn, etc.), and patchouli or myrrh incense, among other items that call to you and inspire you.
During the full moon, you can charge your crystals, tarot cards, magical tools, and anything else that you use on your altar by letting these items bathe in the light of the full moon, especially during its peak. When your altar is complete, take time to meditate on the items, asking them to help you achieve a specific goal for the season or sabbat ahead. Work on your altar, be it in magical practice, or by simply journaling or crafting.
Craft Halloween wish rings.
DJ Conway, author of Moon Magick, writes about crafting Halloween wish rings several days before the holiday begins.
https://www.instagram.com/p/Bx4WmlrBifx
To construct a wish ring (of which you'll make three in total), gather some long grass, straw, or vines from the woods around you. Braid these natural elements into long strips and then tie them in round circles so they look like wreaths. You can decorate them with foliage, ribbon, or other bits and bobs if you see fit.
Then, hang your three Halloween rings outside your home in bushes or trees, and assign each ring a wish. It's best to hang the wreaths close to the house and outside a window. However, do not hang the wreath where you can see it. After assigning the rings with their wishes, don't look at them again until Halloween night, or else your wishes won't come true. If and when your wish does come true, return the rings to nature, making sure to remove any synthetic decorations first.
There's really no wrong way to celebrate Samhain.
As long as you apply intention to each ritual you partake in, you're doing it right. With so many Samhain-related rituals out there, find one that speaks to you and incorporate it into your yearly holiday routine. Keep the old ways alive and use the light from the Full Hunter's Moon to guide you.