Pregnant Hilary Duff confronted a paparazzo who'd been following her all day, and documented the whole thing on video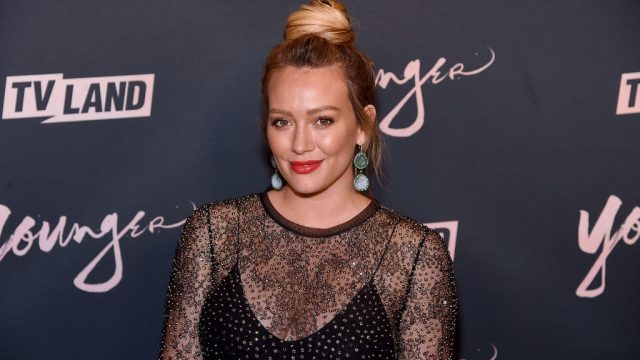 We all know the paparazzi can get pretty scary (*ahem* Princess Diana). And where Hilary Duff is concerned, things are getting seriously out of hand. Over the weekend, a paparazzo straight-up followed Duff all day while she ran errands until she finally got fed up and told him off—and she documented the entire thing on Instagram so that her followers could see how serious the problem really was.
In a video Duff posted to Instagram on Saturday, September 22nd, she's filming a paparazzo in his car while she's in her car, asking him to leave her alone.
"I'm nine months pregnant, I have the flu," she tells him in the video. "Can you please stop taking my picture? You're, like, hunting me down."
The paparazzo tells her that he's spent his whole morning trying to get a photo, to which Duff simply replies that it's not her fault and that he's making her uncomfortable. Even her pleading with him to "leave a pregnant woman alone" doesn't seem to be enough to get him off her back.
According to Duff's Instagram caption, not only did this guy follow her to her son Luca's soccer practice (seriously? he's a kid!) but he also showed up in her sister Haylie Duff's driveway.
"When people say that's what you get for signing up to be a celebrity it honestly makes me sick," she wrote. "This is every day of every month and it's simply not ok. If a non 'celeb' (I'm sorry to use that word) was dealing with this the law would be involved."
She's right—in any other situation, a case like this would be considered stalking. Celebrities may live their lives in the public eye, but that doesn't mean they aren't entitled to safety, especially when they're pregnant and out and about with their small children. The paparazzi may be trying to make a living, but crossing that line is never okay.
Let's just hope that Duff gets to finish out her pregnancy in peace. Nobody should have to live this way.