My Pregnancy-Safe Skincare Routine Is Good for Me and the Baby
"What you put on your skin can impact the growing fetus inside you."
Cleanse, moisturize, sleep, repeat—or not. From the 18-product maximalists to the one-and-done movers and shakers, everybody's skin care routine differs. In A.M. to P.M., we explore the morning and evening routines of people with different skincare concerns, from targeting acne to embracing vegan beauty.
Age: 33
Skin Type: Normal 
Skin Concerns: Pregnancy-safe skincare 
When I found out I was pregnant, I was, as one would expect, flooded with a range of emotions. Happiness, joy, anxiety, fear, and confusion—the latter mostly in regards to what I was supposed to do about my current beauty routine. This might sound superficial, but I am a beauty editor and the host of a beauty podcast, after all. I had learned from other moms in the beauty business that what you put on your skin can impact the growing fetus inside you. I knew I'd have plenty of time to learn about my pregnancy journey, the different trimesters, etc., but I needed to adjust my skincare routine, stat! 
Being pregnant comes with a host of beauty no-nos: No more facials with LED lights or microcurrent devices; strong chemical exfoliants with acids should be put away; and for the next nine months, you have to bid adieu to your favorite retinol. On top of these stringent rules comes a bunch of changes to your actual skin, too. Two months in, I developed dermatitis on my neck and back unlike anything I had ever experienced before. Five months later, my skin would be as dry as the Mojave desert. And let's not even get started about taking care of my expanding belly skin. But now I'm in the home stretch of my pregnancy, with six weeks left, and I'm proud to say that my skin has never looked better. I know that I am one of the lucky ones who was able to dodge pregnancy melasma and hormonal breakouts, but I also like to think that my commitment to cleaning up my skin care and keeping a consistent routine played a major role in how I was able to find that fabled "pregnancy glow" we've all heard about. 
Here are the products I've been using that have helped me maintain my skin over the last eight months. 
A.M. 
I start by cleansing my face with Summer Fridays Super Amino Gel Cleanser. What I love about this cleanser is that it's super gentle and lightweight—perfect for my drier-than-usual skin. It also balances my pH thanks to amino acids that support skin elasticity and mineral-rich seawater. I use a couple of pumps and massage it into my damp skin in circular motions. The scent is refreshing, too.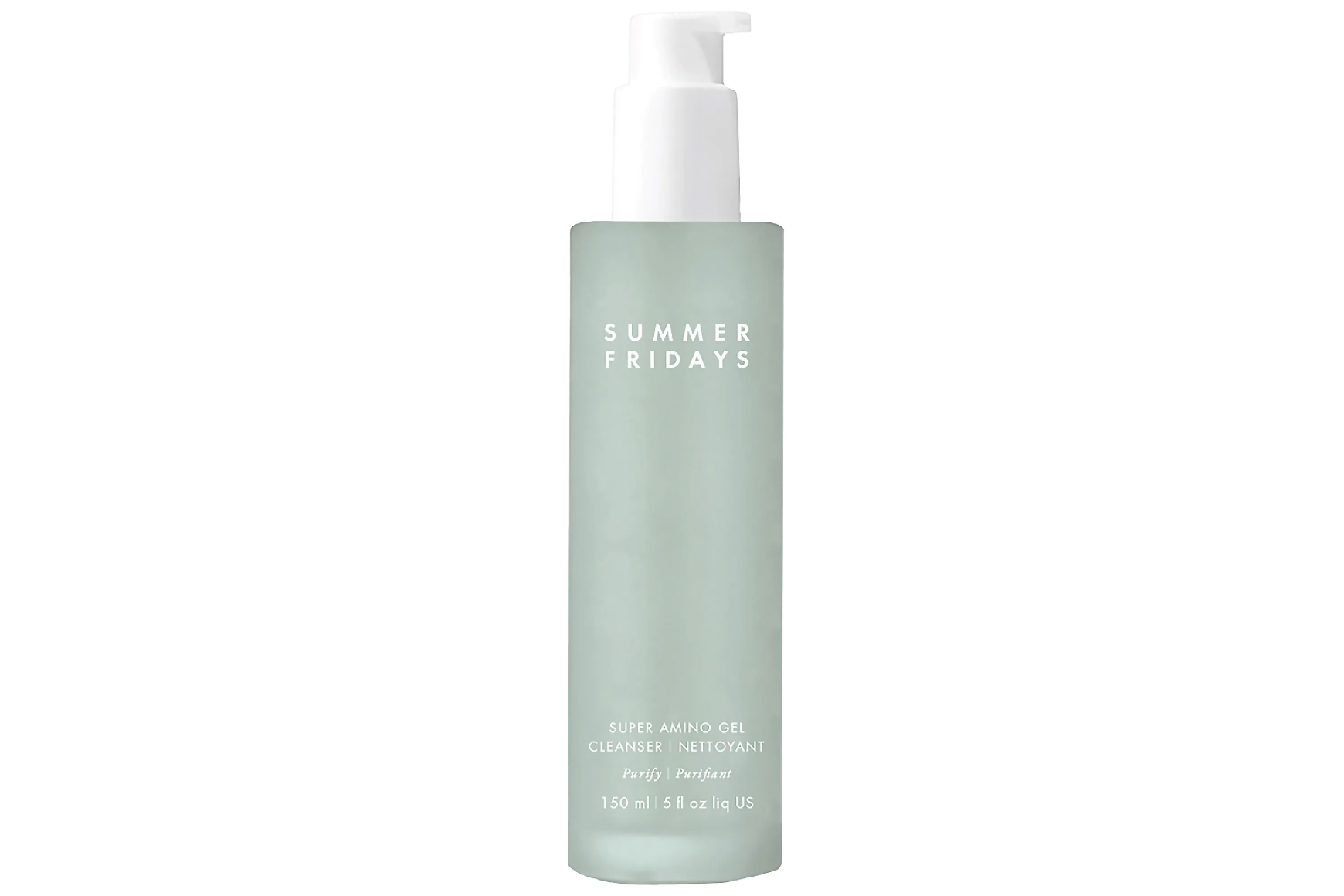 Shop it! $38, sephora.com
Next, I use an essence. If you're not using an essence in your skincare routine, I promise you it will change your life (and, more importantly, your skin)! In case you didn't know, an essence helps to hydrate and encourages the rest of your serums and creams to better penetrate your skin and be more effective. During the day, I like to use The Giving Essence from Then I Met You. Again, my skin is extremely dry these days, so my face soaks this up like I drink up water. It's made with over 80% naturally fermented ingredients that work with polyglutamic acid (a humectant that attracts moisture to your skin) to deeply hydrate the skin. You can pour this onto a cotton pad and then apply it onto your face, but I prefer pouring it directly onto my hands and patting it into my skin.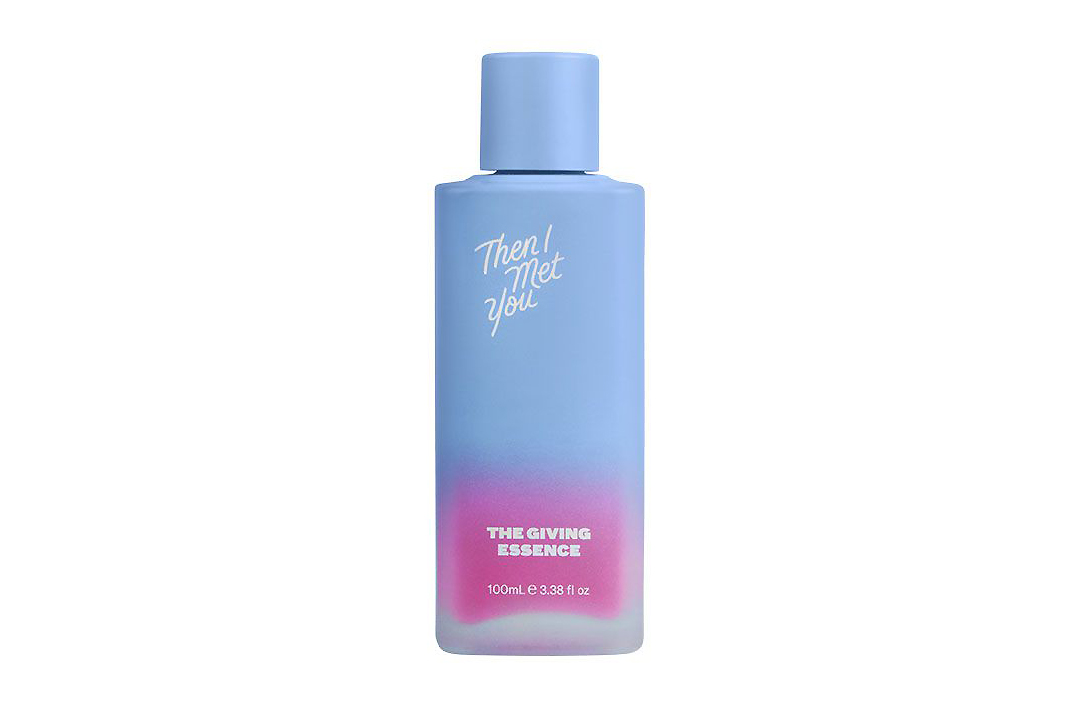 Shop it! $50, sokoglam.com
Now it's time for one of the most important ingredients women should be using during pregnancy: vitamin C! Pregnant women can experience more hyperpigmentation than usual, so to combat this, you can use vitamin C to lighten any dark spots and brighten your overall skin. I have been using Maelove's Glow Maker, which has sold out numerous times; it's that good! Its consistency is more watery than other vitamin C serums I've used in the past, but I actually prefer it. It also has vitamin E, ferulic acid, and hyaluronic acid.
Shop it! $27.95, maelove.com
If my skin is feeling extra tight, I'll layer on a pump of Klur's Immersion serum. It's ultra hydrating, thanks to beta-glucan, which helps soothe, firm, and plump. It also has a few other essential vitamins, which help to maintain moisture in your face for that mochi skin feeling. 
To seal it all in, I use Augustinus Bader Rich Cream. I know, a splurge, but hear me out: If you're looking for a moisturizer that works on all skin types, hydrates your skin without clogging your pores, and goes on lightweight but is rich in delicious ingredients like argan and avocado oil and omega-6 fatty acids and antioxidants—this is it. The brand recommends this moisturizer for the evening, but because of my currently dry skin, I love this for the day. It also protects against free radicals. I just use a couple of pumps and massage it into my skin.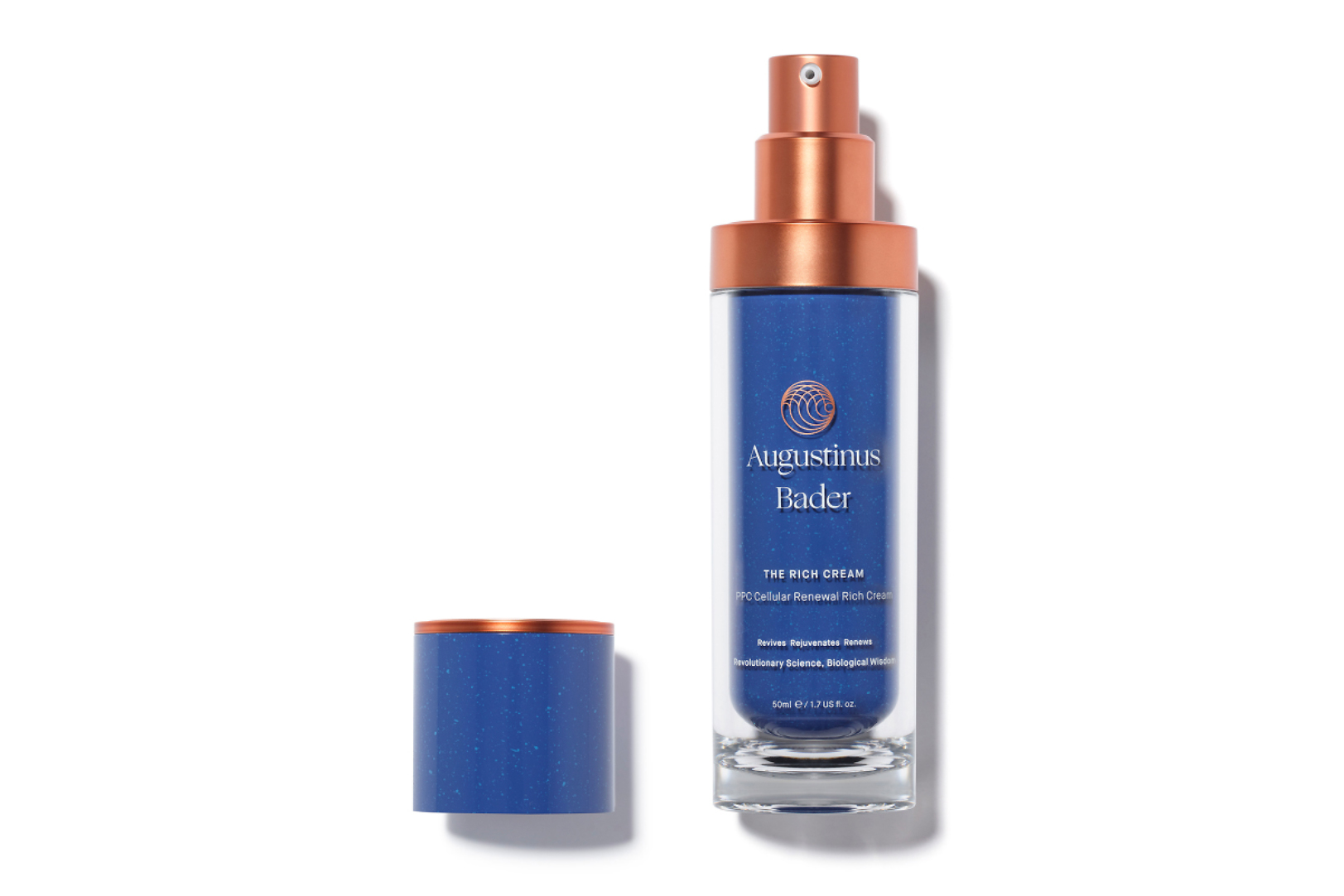 Shop it! $265, violetgrey.com
Last but certainly not least is my sunscreen. I am religious about SPF, and usually I'm not the type to sneer at chemical formulas, but because I'm pregnant, it's recommended that I use a mineral sunscreen. Thankfully, these days it isn't hard to find a good physical formula that works on my skin. I love VERSED's Guard's Up SPF 35; it feels more like skin care than sunscreen. Perhaps it's the fluid, oil-free texture that goes on smooth and blends easily or the fact that it doesn't leave an annoying white cast on my tan skin. I also love that you can recycle the bottle once you're done with it.
Shop it! $21.99, target.com
P.M. 
I have to admit that before I was pregnant, my evening skincare routine was much more elaborate and consisted of gadgets and face masks. Not only can I not use my beloved NuFace or chemical peels, but I'm also too tired to do anything more than my current routine. And hey—that's ok! I've learned it's more about quality over quantity. Plus, I need to prepare myself for even less time dedicated to my routine when the baby arrives. 
First, I wash off the day using Tatcha's new soft cream cleanser called The Rice Wash. It's just as gentle as the Summer Fridays cleanser I use in the morning, but it's a little more luxurious. It's made with a pH-neutral amino acid base (to cleanse and balance), Japanese rice powder (to soften your skin and boost luminosity), and hyaluronic acid with an Okinawa algae blend (to plump and hydrate). You don't need a lot, either—just a little more than a dime-sized amount. It feels like a ritual using this in the evening. Plus, rice water is so good for your skin.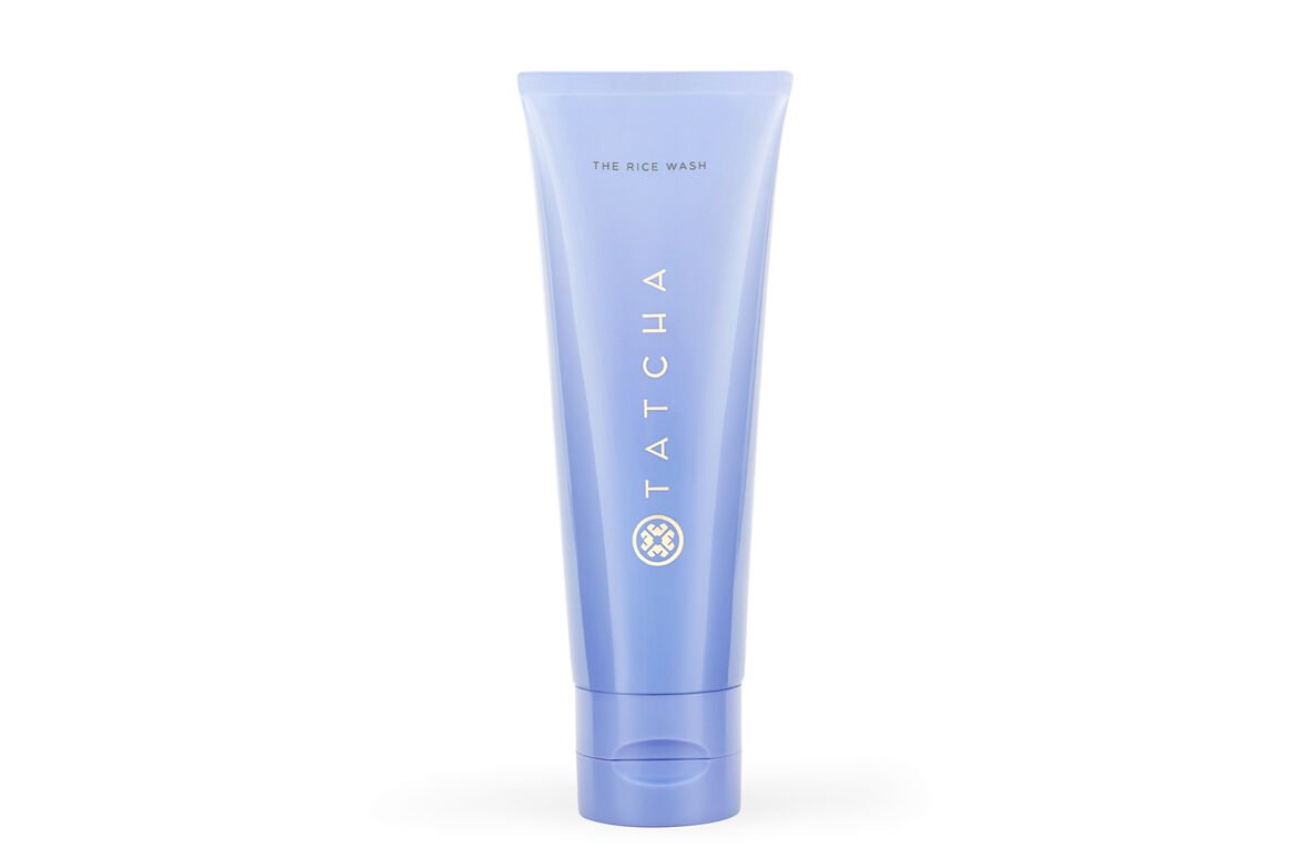 Shop it! $35, tatcha.com
Once every couple of weeks, I use Youth to the People Yerba Mate Resurfacing + Exfoliating Energy Facial with Enzymes. Don't be fooled by the fact that it's clean; this product is highly effective at giving you a mini microdermabrasion treatment at home. Since I'm not getting facials right now or able to use my typical chemical exfoliants, I love getting the gunk out of my pores with this mask. It's got yerba mate to wake the skin up, papaya and pineapple enzymes to break down any dead skin, and bamboo as a micro exfoliant to resurface any roughness or dullness.
Shop it! $54, sephora.com
Time for another essence! For the evening, I use Vintner's Daughter Active Treatment Essence. It is unlike other essences I've used in a lot of ways. It's much more watery in texture and smells like apple cider vinegar since the brand uses fermentation when creating it to help act as a prebiotic for the rest of your skincare products. It also has hyaluronic acid, vitamin C, plant stem cell complexes, and daily exfoliators. I tend to use more active skincare products like this in the evening because I know that my skin is working overtime while I sleep, so why not feed it the really good stuff? 
I follow up the essence with its partner in crime: Vintner's Daughter Active Botanical Serum. I have been using this product for years and am one of those people who swears by it. I know facial oils aren't for everyone, but this one is absolutely for me. It's like magic in a bottle: While I sleep, its 22 nutrient-rich botanicals go to work on my skin, restoring its balance, getting rid of any irritation, and banishing any breakouts.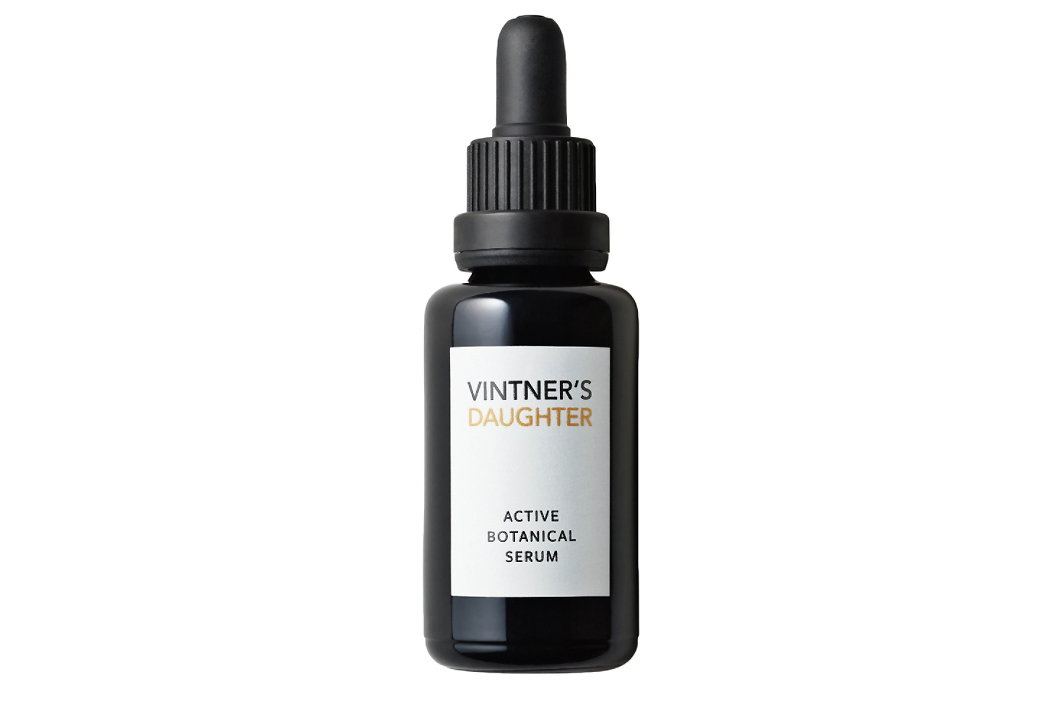 Shop it! $185, thedetoxmarket.com
Laneige's Lip Sleeping Mask is one of my holy grail, non-negotiable products. I love this product so much I can't shut up about it. I've turned so many of my friends onto it, too. "Pregnancy lips" are a thing, which means fuller, more swollen lips due to an increase in blood flow in your body. For this reason, I need extra hydration on my pout while I sleep. I slather this on to ensure my lips are smooth and soft the next morning. Nobody likes cracked, dry lips. 
This last step in my skincare routine is a new one. I finish the evening off by applying Hatch Belly Oil onto my growing bump. It quickly dries onto my skin and doesn't feel greasy, which is great so I don't have to worry about it getting onto my bedsheets. It's meant to reduce the appearance of stretch marks, but the jury is still out on whether or not oil can really do that. However, I do think it is hydrating my skin and helping maintain elasticity as much as possible.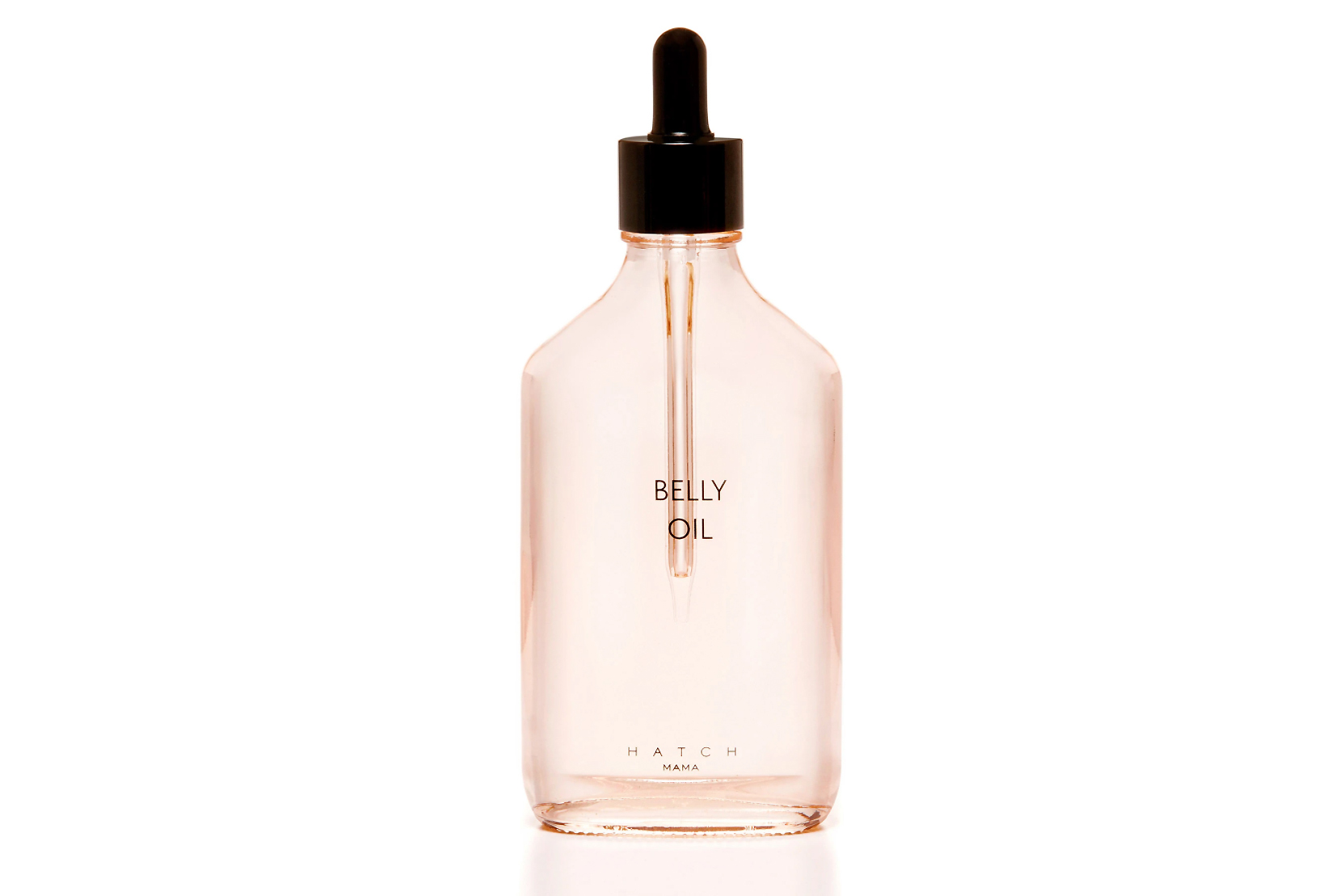 Shop it! $58, anthropologie.com