People are losing their minds over these pre-peeled avocados
First, we had pre-peeled oranges. Now, there are pre-peeled avocados. So basically, grocery stores do not think we're collectively capable of peeling our own fruit.
Mashable explains that, one day, a woman was casually shopping at a Thornhill, Ontario-based Sobey's when she spotted something interesting. It was an avocado that had been peeled, cut in half, placed into packaging, and put on a shelf for $3.99 ($2.99 in the US). The shopper then posted it on Facebook with the caption "Fresh…", which is when her friend Christine Kizik noticed it.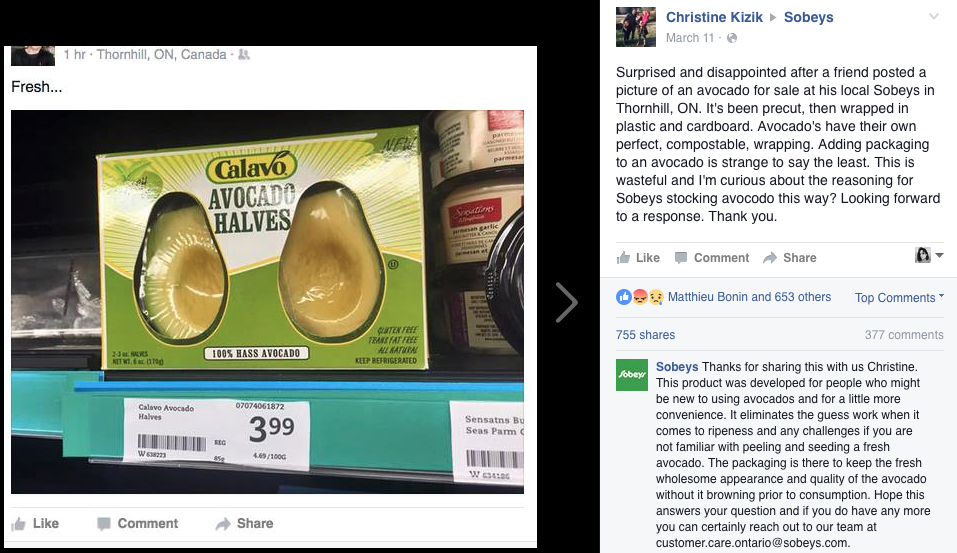 Christine instantly took a screenshot of her friend's post and took the matter straight to Sobey's Facebook page. Alongside the image, she wrote, "Surprised and disappointed after a friend posted a picture of an avocado for sale at his local Sobeys in Thornhill, ON. It's been precut, then wrapped in plastic and cardboard. Avocado's have their own perfect, compostable, wrapping. Adding packaging to an avocado is strange to say the least. This is wasteful and I'm curious about the reasoning for Sobeys stocking avocodo this way? Looking forward to a response. Thank you."
On the other hand, several commenters pointed out that this type of packaging can be beneficial, since it helps those coping with conditions like arthritis: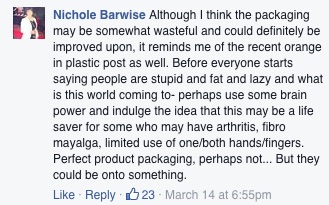 However, Sobey's did not mention this specific reason in their response, which reads, "Thanks for sharing this with us Christine. This product was developed for people who might be new to using avocados and for a little more convenience. It eliminates the guess work when it comes to ripeness and any challenges if you are not familiar with peeling and seeding a fresh avocado. The packaging is there to keep the fresh wholesome appearance and quality of the avocado without it browning prior to consumption. Hope this answers your question and if you do have any more you can certainly reach out to our team at [email protected]."
Many were not on board with this response and continued to cite environmental and price concerns (because, depending on where you shop, $3.99 can be a hefty price to pay for a single avocado).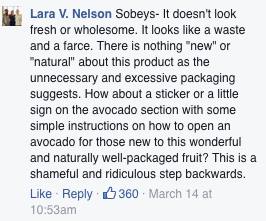 Others took the opportunity to remind us that this isn't an isolated situation and that we should spend more time thinking about all the food we purchase at the store.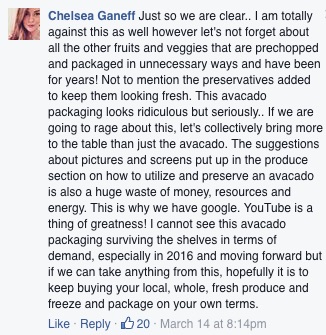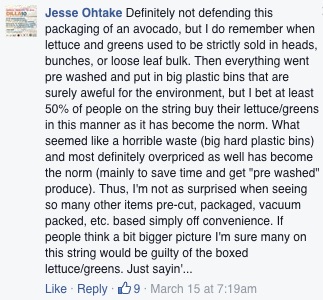 When it comes to pre-peeled avocados, it seems that there are definitely pros and cons. However, there must be some way to meet in the middle, right? We should start brainstorming a method that's inexpensive, not wasteful, and will still help those who aren't able to peel an avocado on their own.