Praise the hair gods: Hilary Duff went even BLONDER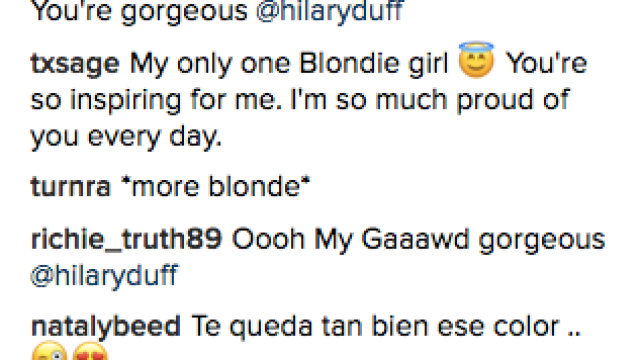 Few celebs are as universally beloved as our dear, sweet Hilary Duff — not only are we constantly in awe of the poise and class with which she lives her life, but she's also a genuinely fun and interesting artist that we love to watch. She takes risks with her style without ever going over the deep end, so we love when she changes up her look — like her most recent super blonde hair transformation! She's dabbled in just about every iteration of blonde there is, including last year's very popular bronde, but we are pumped to see her going extra light these days. It's just in time for spring!
How great is that hair?!
The paler blonde still looks super soft and healthy, which anyone who bleaches their hair knows is a feat! The cut is so flattering and stylish, we have a feeling we'll be seeing plenty of versions of this cut and color cropping up on heads all over town! She's even lightened her roots up a bit, which is a step away from the ombré she usually goes for.
We love it either way!
Her fans are also totally into her new look, as they should be! It's so good.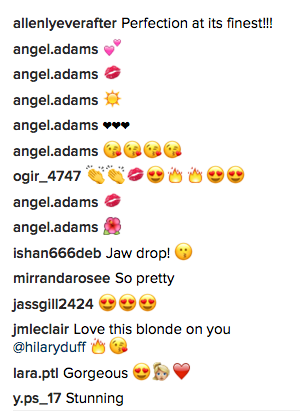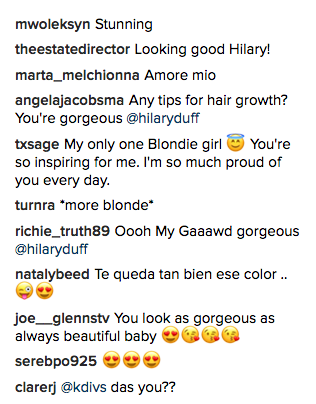 Are you inspired to go a bit blonder than usual after seeing this pic? It's definitely a lovely change that works with the changing seasons. Thanks to the horrors of climate change the days are getting warmer earlier this year, so we might as well go lighter earlier, too!
Let Hilary inspire all your beauty choices! She's so effortlessly lovely that we could all take a page from her book when it comes to loving ourselves and feeling great. We can't wait to see what she does next!