Prada pulled a racist monkey character from its stores—and how is this still happening?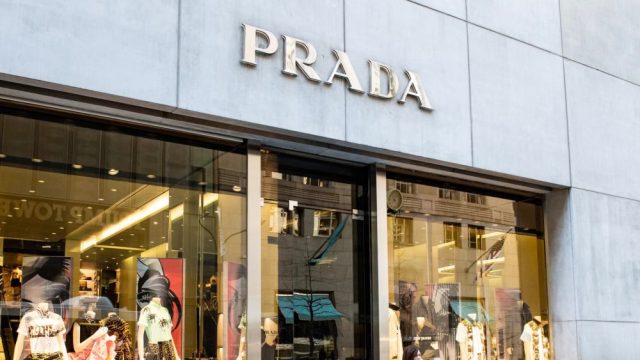 Major fashion companies are making (gradual) progress in terms of inclusion and cultural sensitivity, but stories about racist caricatures and representations in the industry are still far too common. In November, Dolce & Gabbana came under fire for a series of racist ads that featured Chinese stereotypes. And now, Prada is the latest brand to face backlash, pulling a figure from its stores amid complaints that it glorified blackface.
Bloomberg News reported today, December 14th, that Prada pledged to stop selling a $550 monkey figure after social media users pointed out that it bore an unsettling resemblance to a person in blackface. The monkeys were created as part of the brand's "Pradamalia" line, which consists of keychains, necklace charms, and earrings depicting animal-like creatures. The character had also been part of a window display in at at least one store in Manhattan, according to CBS News.
In a statement posted to Twitter this morning, Prada wrote that it had not intended the character to reference blackface in any way.
"#Prada Group abhors racist imagery," the brand tweeted. "The Pradamalia are fantasy charms composed of elements of the Prada oeuvre. They are imaginary creatures not intended to have any reference to the real world and certainly not blackface. #Prada Group never had the intention of offending anyone and we abhor all forms of racism and racist imagery. In this interest we will withdraw the characters in question from display and circulation."
The character had dark coloring and an oversized, red mouth, drawing comparisons to dehumanizing Jim Crow-era cartoons. Attorney Chinyere Ezie noticed the offensive figures as she passed the brand's SoHo store, and she shared a public Facebook post about it on December 13th.
Twitter users agreed.
https://twitter.com/udfredirect/status/1073372282964402182
https://twitter.com/udfredirect/status/1073590146757484544
false
CBS News reports that as of this afternoon, Prada had deleted tweets about the character and removed it from its homepage. However, as of writing this, visitors to the Prada website could still find and purchase items featuring the monkey. Danielle Burton, editor-in-chief at The Root, told CBS News that at first, she was "shocked" by the blatant racism of the character.
"Blackface has been historically used to dehumanize black people," she said. "It's mystifying how no one along the chain said there was anything wrong with it."
We have a strong suspicion this wouldn't have happened if there was more diversity within Prada's corporate structure, specifically behind-the-scenes where creative decisions get made. Hopefully this serves as a wakeup call to Prada—and all brands—that diverse voices and experiences are critical in all aspects of the creative process.