HBO announced a Practical Magic prequel, and we're celebrating with midnight margaritas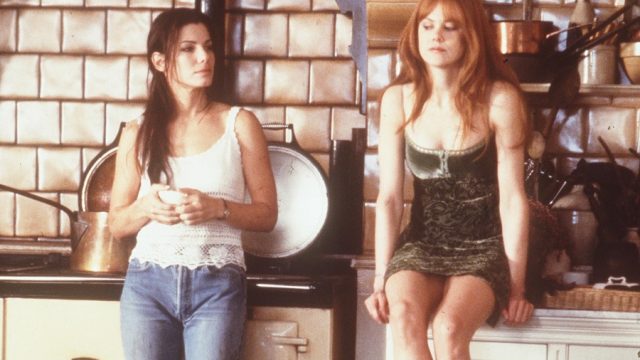 For every tween in the early aughts who wrote a letter describing her dream partner as having "one green eye, one blue" with the ability to perfectly flip pancakes and then cast that letter into the wind, your moment has arrived. So maybe we don't have that dream partner for you, but we have news of something better. HBO Max has greenlit a Practical Magic prequel series.
Rules of Magic will be a one-hour drama series based on Alice Hoffman's own prequel of the same name to her book Practical Magic.
While you're cueing up the blender for midnight margaritas (or cleaning up after a dead body—we mean, a pesky infestation of frogs), let us tell you the scoop:
Before the Nicole Kidman and Sandra Bullock cult-classic movie, there was a book. Practical Magic is about the Owens family curse: Every man the Owens women have ever loved has met an untimely death. Sally Owens (played by Bullock in the movie), thinks she's exempt from the curse despite her own father dying young, leaving her and her sister Gillian (Kidman) to be raised by two eccentric aunts (more on them in a minute). But the curse comes for her husband, too, leaving her to repeat the cycle, as she takes her own two daughters to live with aunts, Jett and Frances—played by Stockard Channing and Dianne Wiest—in their big house full of magic.
Now, it's Jett and Frances who will take the deserved spotlight in the new prequel. Here's the summary full press release, per Variety:
"Set in 1960s New York City, the series follows three troubled siblings—Franny, Jet, and Vincent Owens—who wrestle with "abnormalities that have kept them isolated. But the tumultuous times unearth the extraordinary discovery that they are, in fact, descendants of a bloodline of witches. The two sisters will become the revered, and sometimes feared, aunts in 'Practical Magic,' while their brother will leave an unexpected legacy."
Vincent's character is definitely the wild card here, as he didn't feature in the film. Whatever his legacy might be, we have a feeling it will be magical.
Fans are also grabbing all the makings of margs and dancing around the kitchen with excitement of the news.
https://twitter.com/udfredirect/status/1163501016731594752
https://twitter.com/udfredirect/status/1163498505928732672
No word yet on whether there will be a reunion of original movie cast members—or if Sally and Gillian's characters will even show up as children—but with a 10-script order written by Jessica Jones creator Melissa Rosenberg, this magical venture is sure to be anything but practical.