A Frasier reboot is being "explored" and you know what that means — tossed salads and scrambled eggs for everyone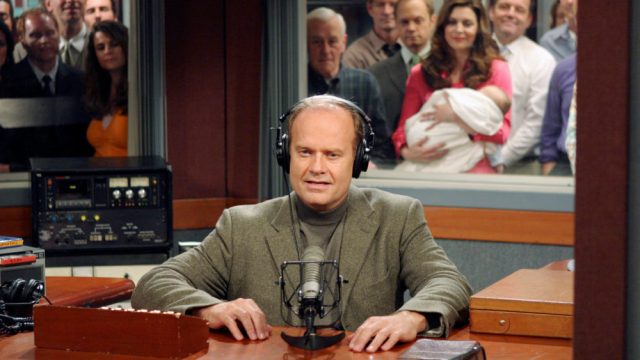 For the love of Niles, it appears another '90s TV show may be getting the reboot treatment. According to Deadline, Kelsey Grammer is currently "exploring" the possibility of bringing Frasier back to our small screens. The series, which itself was a spin-off of Cheers, followed the titular psychiatrist Frasier Crane as he returned to his native Seattle after his divorce, leaving the Cheers-set Boston, and reconnecting with his formerly estranged father and brother.
But while Frasier's many, many contemporaries returning for new seasons generally pick up with its original characters more or less where we left them — living in the same apartments and working the same jobs — the Frasier reboot would be an actual reboot, featuring just Frasier. Deadline is reporting that one of the ideas being tossed around is essentially taking a cue from the original concept of Frasier — purposefully removing him from Boston — meaning the new iteration would take him far from Seattle.
In that case, it doesn't seem like we'll be seeing Frasier's brother Niles, sister-in-law Daphne, Eddie the (probably dead, I'M SORRY) dog, or Roz in the reboot. (But chances are good that Marty Crane's beloved, beaten up, taped up armchair will have a cameo.) It seems the Frasier reboot is still in early development, so nothing is set in stone just yet.
The series premiered in 1993 and ran for 11 seasons before ending in 2004. In addition to Grammer, who also executive produced the series, David Hyde Pierce starred as Niles Crane, Jane Leeves played Daphne Moon, and Peri Gilpin played KACL radio producer Roz Doyle. The late John Mahoney starred as the family patriarch, Martin Crane.
The news of a Frasier reboot comes on the heels of so many reboots and revivals of '90s TV shows currently gracing our screens. If the idea moves forward and a Frasier reboot is picked up, it'll join Will & Grace, Murphy Brown, Roseanne The Conners as '90s series returning to network television.
Rumor has it, Y2K panic is also eyeing a reboot — but is holding out for the right opportunity.