5 female-focused adult sites that will turn you (and your partner) on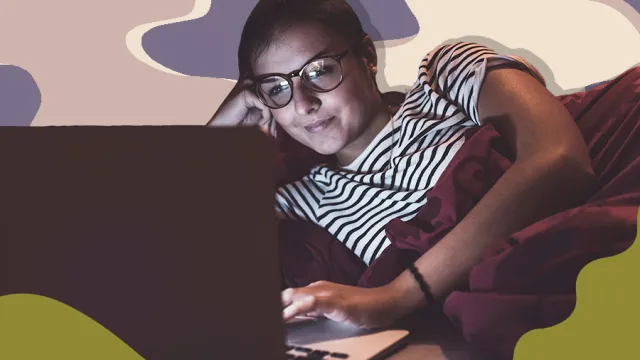 Let's get one thing straight: Women love porn. Sorry, grandma—but it's true. Women watch it, listen to it, and crave a lot of it. And to deny and say that we don't get turned on by visual or audible adult content is far from the truth.
According to a 2015 Marie Claire study that was conducted by contributing editor Amanda de Cadenet, one in three women watches porn. And according to Pornhub's 2017 survey, the number-one search term for their entire site was "porn for women." While there's truth in numbers, the majority of the porn industry has been designed for the male gaze. This can make it hard for women to find content they deem, well, pleasurable.
Of course, that doesn't mean that the adult industry isn't changing. Women across the country have been launching adult websites with content made with and for a woman's point of view. For instance, Bellesa.co, hires women directors and writers to produce their content. And Dipsea provides feminist audible stories that ensure their female characters feel empowered and celebrated in their own skin.
But even though the industry is heading in the right direction, it can be hard to find women-led adult websites when you're in the mood. So we thought we'd put all our favorites in one place, so you can just file this article away for…a rainy day.
5 Porn sites for women (and their partners) to enjoy
1 XConfessions
Ericka Lust, who is known as an erotic indie filmmaker, started a project in 2013, where people could share their sexual fantasies. Eventually, this project morphed into XConfessions, an adult website that delivers weekly porn shorts that are based on real confessions by real people. According to the website, they never use the same story and setting twice, and they tell stories about what sex and desires really feel like. Although you do need to pay for the service, you gain access to their films, interviews, and confessions when you become a member. It's worth it if you ask us.
2 Frolic Me
Instead of searching the web for porn that matched her needs, Anna Richards decided to take things into her own hands by creating Frolic Me. Her content, which she produces and creates herself, "play[s] on erotic passion and desire" and is uploaded on a weekly basis to her site. While you do need a membership to view the content, you can either pay for a weekly subscription for $6.60 or a yearly subscription for $52.80.
3 Pink Label TV
Pink Label TV is a queer-owned hub for all your sexual desires. Director Shine Louise Houston created PinkLabel.tv in 2013 to provide a space for up-and-coming adult indie filmmakers to upload their films. According to the website, Houston's intention is to "use her company's established platform to support new producers by offering resources that help their films find a global audience, enable studios access to sexual health resources and ethical production practices, and further their filmmaking craft and career." Plus, the content is made for a vast audience, such as people who are older and/or with disabilities. They charge a membership fee that starts at $25.
4 Bellesa.co
Bellesa is a free adult website that is made by women for women. They capture real, unscripted sex and never include fake orgasms in their videos. Plus, they ensure that the performers they're working with are protected and safe, which can be very hard to come by in this industry. Basically, everything you see via their content is real, true, and in favor of the woman performer.
5 Dipsea
Ever since the dawn of the Internet, video has been the go-to medium for erotic content for most people. But more recently, companies like Dipsea have emerged from the video clutter to change up the industry standard by providing sensual and erotic audio stories—and it's something to look into. Not only is all their content feminist-focused, but they also refrain from incorporating shame or judgmental tactics into their overall ethos, which is always good to hear.