The most popular brunch food in your state might surprise you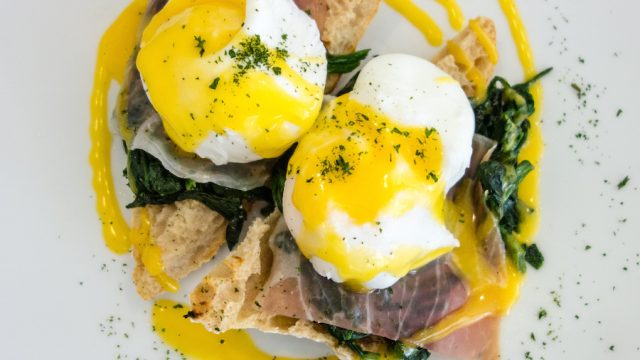 It's a weekend tradition: You slip into your best romper, lace up your gladiator sandals, and dance down the street (La La Land-style) to meet your girls for brunch. Diving into your favorite brunch food is pure bliss — but is where you live dictating what you eat? According to new data from Pinterest, there's a clear winner in the "favorite brunch food" category for each of the 50 states, and the results are pretty eye-opening.
Think Californians go crazy for avocados? Nope, it's figs. Picturing thick steaks accompanied by fried eggs in Texas? Think again! The Lone Star State loves stuffed avocado.
Ready for more? Keep scrolling to see which brunch food topped the list in your state.
Alabama: Pound Cake
Alaska: Smoked Salmon
Arizona: Breakfast Tostada
Arkansas: Cheese Danish
California: Fig
Colorado: Paleo Breakfast
Connecticut: Biscotti
Delaware: Fruit Tray
Florida: Pancake Cake
Georgia: Caribbean Brunch
Hawaii: Green Tea
Idaho: Zucchini Bread
Illinois: Mimosas
Indiana: Fruit Pizza
Iowa: Peanut Butter Bars
Kansas: Breakfast Casserole
Kentucky: Bourbon
Louisiana: Bread Pudding
Maine: Donuts
Maryland: Chickpea Pancakes
Massachusetts: Polenta
Michigan: Breakfast Cookies
Minnesota: Breakfast Burrito
Mississippi: Buttermilk Biscuits
Missouri: Party Dips
Montana: Scones
Nebraska: Hashbrowns
Nevada: Avocado Toast
New Hampshire: Irish Cream
New Jersey: Sangria
New Mexico: Breakfast Empanadas
New York: Breakfast Risotto
North Carolina: Banana Pudding
North Dakota: Chocolate Chip Muffins
Ohio: Cheesy Potatoes
Oklahoma: Breakfast Enchiladas
Oregon: Lavender
Pennsylvania: Thumbprint Cookies
Rhode Island: Flower Cakes
South Carolina: Quiche
South Dakota: Tater Tots
Tennessee: Cornbread
Texas: Stuffed Avocado
Utah: Waffles
Vermont: Beets
Virginia: Smoothie Bowl
Washington: Macaroons
West Virginia: Amish Friendship Bread
Wisconsin: Baked Oatmeal
Wyoming: Homemade Bread
Are you starving yet? Because we are! Meet us at the spot this weekend — we'll make a reservation.