Popsicles for breakfast are your new reason to get out of bed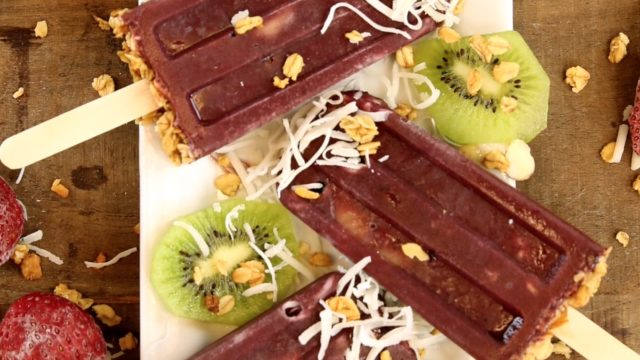 When you were a little kid, did you ever wonder why we reserved certain foods for certain times of day? And why dessert could only be consumed AFTER a meal? Real talk: Even as adults, those arbitrary rules make ZERO sense, so why do we still follow them!?
Well, what if I told you that you could satisfy your sweet tooth even if a craving strikes first thing in the morning, without feeling like a small child lacking supervision? Let me share with you the three most beautiful words in the English language: Popsicles for breakfast. WHAT A TIME TO BE ALIVE!
Follow the recipe below and live the life your inner-child always dreamt of!
[tempo-video id="5037517343001″ account="4607804089001″]
Açai Bowl Popsicles:
INGREDIENTS:
3 packets of frozen açai pulp (Find this at Whole Foods, Lassens, or other health food stores in the freezer section)
2 bananas
8 frozen strawberries
Honey
1/4 cup of water (Or you can use almond milk to make it creamier and add protein)
1 kiwi
Shredded coconut
Granola
RECIPE:
For açai mix: Add pulp, 1 1/2 bananas, frozen strawberries, 1 tbsp honey and water into blender. Mix until smooth.
For Popsicles: Sprinkle shredded coconut into bottom of Popsicle molds. Then begin to layer açai mix with cut fruit (kiwi and rest of banana — or any fruit you like) until the molds are almost full. Sprinkle granola on top of the mixture, and drizzle with honey so when they freeze, they'll stick together. Freeze until hardened (this can take up to 6 hours or more, depending on your freezer).
Remove from molds and serve with a sprinkle of yummy shredded coconut for garnish, and you have the perfect breakfast for a hot morning, or a post-workout snack on-the-go. Now, can someone figure out how we can have cheeseburgers for dessert?