Poppy Delevingne's turquoise gown at the "King Arthur" premiere looks made for Camelot
We're bowing down! Model and actress Poppy Delevingne donned a stunning turquoise gown at the UK premiere of King Arthur: Legend of the Sword on May 10th, and won the entire night.
Sisters Cara and Poppy Delevingne may not be jealous of one another, but we're certainly having bouts of envy on our end.
In fact, everything about the beauty's look was crazy on point. Poppy wore her hair in an effortless high ponytail. And accented her gown with simple gold accessories. But the best part, without a doubt, was the dress's detailed cutouts. Very elegant, but still a bit sexy in the same breath, Poppy's frock also did a fine job highlighting her gorgeous limbs.
We love everything about this ensemble. From the stunning tie at the neckline, to the long sleeves, to the matching belt detail, this dress is definitely a red carpet favorite.
Poppy has legs for days. And we mean that in the least creepy way possible, of course.
She's a vision in turquoise.
And she knows it.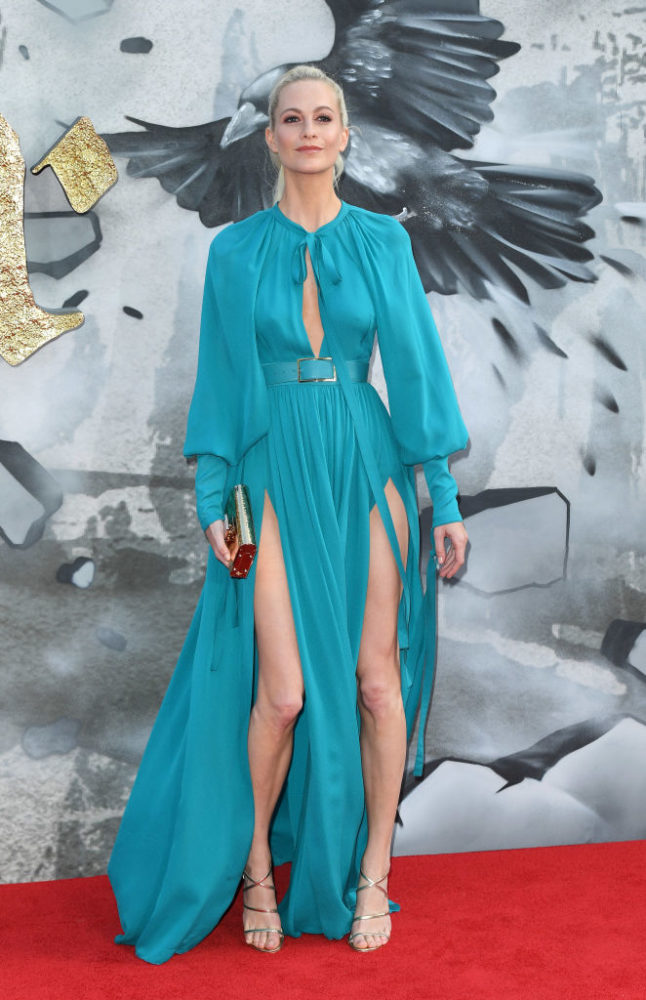 We're hanging on the edge of seats for the next look this long-limbed goddess debuts. And until then, this flowy number takes the crown for one of Poppy's greatest red carpet moments.
We wonder if Cara and Poppy consult one another on their outfits before showing them off to the rest of the world. Like, do they plot on the best, and most effective ways to slay our lives before each event? Either way, they're definitely doing something right.
Bottom line, the Delevingne sisters never disappoint.