On Palm Sunday, Pope Francis tells young people: "It is up to you not to keep quiet"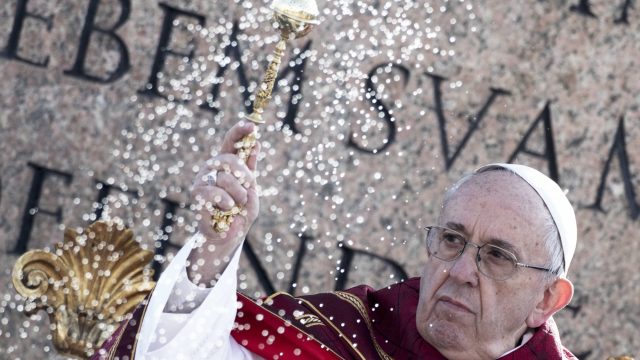 After March For Our Lives led millions of peaceful demonstrators to take to the streets around the world, we love being reminded that this is only the beginning. It's so important to encourage and support young people to continue to stand up for what they believe in, and — as Holy Week services began today in advance of Easter — it looks like Pope Francis is totally here for it too.
At Palm Sunday mass in Vatican City, the pope urged young people to speak up despite possible resistance. And we couldn't agree more.
"The temptation to silence young people has always existed, Pope Francis said, just one day after March For Our Lives. "There are many ways to silence young people and make them invisible. Many ways to anesthetize them, to make them keep quiet, ask nothing, question nothing. There are many ways to sedate them, to keep them from getting involved, to make their dreams flat and dreary, petty and plaintive.
However, the pope reminded the crowd that we *need* to speak out in order to build a better world.
"Dear young people, Francis said to tens of thousands of visitors during Palm Sunday services. "You have it in you to shout.
Pope Francis' powerful message falls the day after countless young people marched against gun violence. The pontiff didn't specifically refer to the protests, however.
"It is up to you not to keep quiet, he continued. "Even if others keep quiet, if we older people and leaders, some corrupt, keep quiet, if the whole world keeps quiet and loses its joy, I ask you: Will you cry out?
Like Pope Francis, we stand by all the young people who are shouting, "Enough is enough." The lack of action on gun control is completely unacceptable, and it needs to end. Thankfully, if you're looking for more ways to get involved in the fight to stop gun violence, it's easy to get started. (And yes, you can even do it from your couch.) As a first step, text the word "FIGHT" to 50409 to register to vote and contact your representatives.
Together, our voices are that much more powerful. Together, we shout.