Apparently, Pope Francis said there is no hell, and people are losing it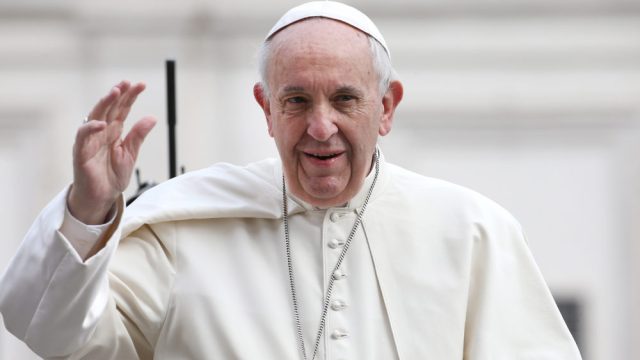 Pope Francis might be the most "with the times" pope the Catholic church has ever had. He's voiced his positive opinions on gay rights, gender equality, and the sinfulness of fake news. And he's most recently praised young people taking a stand against gun violence.
But some believers were a tad taken aback at the pope's most recent, and perhaps most radical, declaration: Pope Francis reportedly said that there is no hell…the existence of which is a foundational detail of well, Christianity.
According to multiple news sources, 93-year-old Italian journalist Eugenio Scalfari recently sat down with Pope Francis for a pre-Easter interview. When the topic of heaven and hell came up, Scalfari, a noted atheist, claimed that the pope said the souls of repentant sinners, "receive the forgiveness of God and go among the line of souls who contemplate him."
Then, as Scalfari wrote in a March 29th article, the pope supposedly said, "Hell does not exist." Pope Francis reportedly explained that "sinful souls" simply "disappear."
But, but, but — !
After the release of Scalfari's story, the Vatican sent out a statement clarifying that Scalfari did not interview the pope, but rather sat with him in a private meeting to exchange Easter greetings.
It's important to note that Scalfari has admitted to rarely taking notes during his interviews, nor does he record his conversations. He reportedly re-creates the conversations, including the quotations, later while writing.
The Vatican further squashed the uproar by stating that the Scalfari's article, "is a product of his own reconstruction in which the actual words pronounced by the pope are not cited. No quotes of the aforementioned article should therefore be considered as a faithful transcription of the Holy Father's words."
Of course, the pope has talked about hell many times during speeches and homilies, as the National Catholic Reporter notes. So, it would be seemingly out of character for him to suddenly denounce the existence of hell during this one-on-one conversation.
It's one man's word against another — and one of those men happen to be the pope. Heaven or hell? Well, you get to decide what you believe, at least.