The Pope says beauty vloggers make the world better, and we agree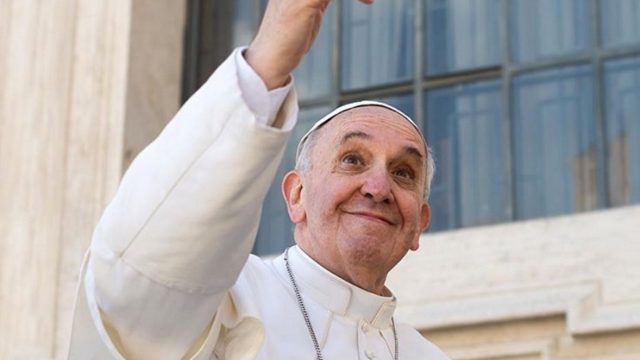 Pope Francis has worked on a music album, joined Instagram (and instantly got millions of followers, obvs), and stated his support for gender equality in the workplace, so obviously, we were already huge fans. Now, the Pope has voiced his support for beauty vloggers and we're over here wondering if he could possibly get any cooler.
According to the UK's Guardian, the Pope held an "intimiate meeting" with 12 YouTube stars on Sunday, including British vlogger Louise Pentland, who runs a fashion and beauty channel called "Sprinkle of Glitter," and Mexican-American lifestyle vlogger Dulce Candy, who moved to the U.S. at the age of six. https://www.youtube.com/watch?v=
"I am glad that you carry out the type of work you said, following the line of beauty, it's a great thing. To preach beauty and show beauty helps neutralise aggression," the pope said. https://www.youtube.com/watch?v=
He also had a message for YouTube vloggers in other areas, including comedy YouTube entertainer Hayla Ghazal from Dubai and American video game vlogger Matthew Patrick. "You can create a virtual identity; you belong to this circle at least virtually. From that you can start taking a path of optimism and hope," the Pope said, encouraging the vloggers to help any of their fans who may feel lost.
He then thanked the vloggers for "giving me some of your youth as a gift," according to the Guardian. TBH, we're pretty sure Pope Francis has plenty of youth already — after all, he's way better at Instagram than we are. But we can't help but smile at the thought of the Pope watching a tutorial on how to make the perfect flower crown.