I'm not in the pop-punk scene anymore, but the music will always mean a lot to me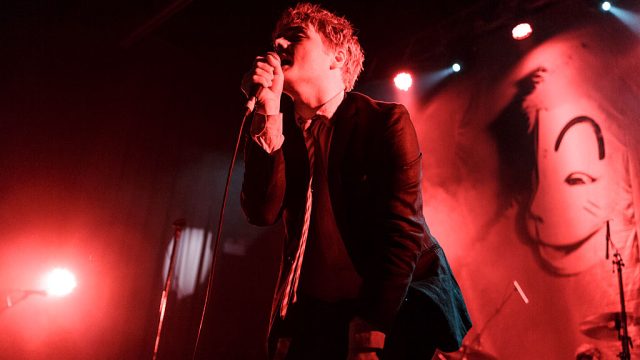 I was at a 90's grunge party a few weeks ago for one of my closest friends' 21st birthday. Everyone was laughing, talking, dancing and having a good time listening to Nirvana, Pearl Jam, and Alice in Chains until somebody's iPod playlist did the unthinkable and shuffled to the one song we could not hear at a party right then.
The opening notes to My Chemical Romance's "Welcome to the Black Parade" started playing its haunting opening piano melody, and the party instantly broke down into tears; drowning in 2006 smudged eyeliner and colorful hair extensions. Our pop punk, emo-loving selves were back from the grave.
I was a late bloomer in the pop punk scene. I didn't get into the genre until about 2008, right before All Time Low released their iconic, genre defining album Nothing Personal. I found a cool looking CD at the library one day when I was in eighth grade and decided to take it home and give it a chance. Forever the Sickest Kids' debut album, Underdog Alma Mater, was a banger, full of fun, dance-worthy songs and catchy lyrics. I was hooked into the genre and found as many pop punk bands to listen to as I could. I slowly became pop punk-obsessed as Good Charlotte, Jimmy Eat World, Brand New, and The Wonder Years began to fill up my purple 4th generation iPod nano.
I owe a lot to the pop punk scene. Practically every heartbreak, depressing night, joyous concert, loving friend, and beautiful love I've had in my life stems from pop punk. Mayday Parade was my first ever concert during my freshman year of high school, and that's where I became closest to my high school friends. I met my absolute best friends through our love of Panic! At the Disco. I met a ton of new friends at the incredible All Time Low/Pierce the Veil/Mayday Parade/You Me At Six tour, a.k.a the Holy Grail of pop punk tours. (I almost missed prom for that show!) My boyfriend and I scream sing Blink 182, Green Day and Simple Plan throwbacks constantly. Pop punk was an essential part of my life.
Pop punk was more than just a genre of music, a couple of catchy songs, and cute band boys. It was about the fandom of people that made it incredible. All Time Low's Hustlers, Fall Out Boy's Youngbloods, Panic! At the Disco's Sinners, My Chemical Romance's Killjoys and so much more. They were incredible groups of all races, genders, backgrounds, and sexual orientations. We came together for shows, for new albums, for bandom theories, and fanfictions.
I immediately fell in love with the scene.
When I was seventeen and suffering through the worst bout of depression I ever had, I spent the entire time either staring at my white walls and white ceilings or going to concerts. I would go to school and come home to do homework while blasting Taking Back Sunday, Hey Monday, We Are the In Crowd, The Academy Is, or The Offspring. Otherwise I was screaming my heart out at a concert, watching We The Kings, Cute is What We Aim For, Tonight Alive, Motion City Soundtrack, or A Day to Remember. Seriously, I went to about 20 pop punk concerts that year. Each time I felt safe, loved and happy. Pop punk changed the way I viewed life and myself.
So when I went to a State Champs/Handguns show and a Real Friends/The Story So Far Show two years ago, I realized things had changed. The kids had changed. The bands had changed. I was one of the oldest people there, amongst an enormous amount of straight white boys; but I watched in awe as these kids screamed back the lyrics to their heroes. I watched them laugh in between songs, cry when the show ended, and make friends with one another.
The scene had moved on to a new group of bands, but the feelings are still the same. I've realized it started with the Blink kids, the Green Day kids, the Simple Plan kids, the New Found Glory kids. They grew up and they moved on, but the songs are still hitting home. It moved on to my generation, the All Time Low Kids, the MCR kids, the FOB kids, the Paramore kids.
We have now grown up, and moved on. But, I still have flashbacks to Hot Topic visits, the summer heat of Warped Tour, the scene queens of 2006, and the anxiety and excited relief of finally getting tickets to see your favorite band (when I got Panic! At the Disco tickets I cried for a good three hours).
The death of pop punk for me, when I put away my eyeliner and only wore my band shirts to sleep instead of everywhere was when My Chemical Romance called it quits in 2013. I never got to see them live, and they were the epitome of pop punk bands for me. The lead singer, Gerard Way, wrote a final letter about why the band broke up. He was no longer feeling the sadness of the album, "The Black Parade," and was instead always feeling the happiness of their last album, "Danger Days," because of his wife, his young daughter,and his sobriety. The band was done but the idea and message behind it could never die. This made me reflect on my own life because I was not a sad, lonely and lost teenager anymore. I am now a happy, successful, and loving young adult with so much to look forward to in life, just like Gerard. We helped those bands just as much as they helped us.
And now it's these new kids with their new bands. It's Modern Baseball, Neck Deep, The Story So Far, and Twenty One Pilots. The fans are teenagers and young adults, figuring out life and themselves one song, album and band at a time. The bands are the new faces of pop punk, carrying on the torch of the bands and fandoms before them. It makes me nostalgic listening to old pop punk songs. It makes me laugh and cry, remembering how angsty and emo I was as a teenager. It makes me proud how much I've grown. It makes me happy how far I've come, and that I'm still here.
Alex Gaskarth, Brendon Urie, Oli Sykes, Andy Biersack, Hayley Williams, Travis Clark, Pete Wentz, Gerard Way and soon to be Dan "Soupy" Campbell are all married now. Many of them have kids now. Many of the bands are no longer or have moved into different sectors of pop punk. They have also grown up and moved on. But their stories, their messages and their hearts are still the same.
I've been listening to Fall Out Boy's Infinity on High as I wrote this piece. It was released in 2007, when I was 13, vulnerable, eager to live life and discover myself. It still means so much to me. So for my closing statement all I can say is this: Defend Pop Punk! Remember the lessons, the love and the friendships. It's not about elitism, banning new fans, hating your hometown, your family or yourself. It's about loving yourself so no one has to. It's about dreaming, dancing and having a good time. It's about having a place to call home for whenever you need it. So grab your pop punk crown, kick ass and never let them take the light behind your eyes.
Signed,
An Eternal Pop Punk Princess