All the Political Fashion Symbols at the Inauguration, from Jill Biden's Coat to Kamala's Pearls
American designers and purple everywhere.
The day has finally arrived—President Joe Biden and Vice President Kamala Harris have been sworn in as the 46th and 49th president and vice president of the United States, respectively. And because this is such a historic day for the future of America, everything about the event is intentional, from the ceremonial lineup to the fashion worn by Biden, Harris, and their political counterparts. In fact, the symbolism behind the clothing worn by the politicians and performers today is so powerful, it's hard not to be filled with hope for the next four years ahead.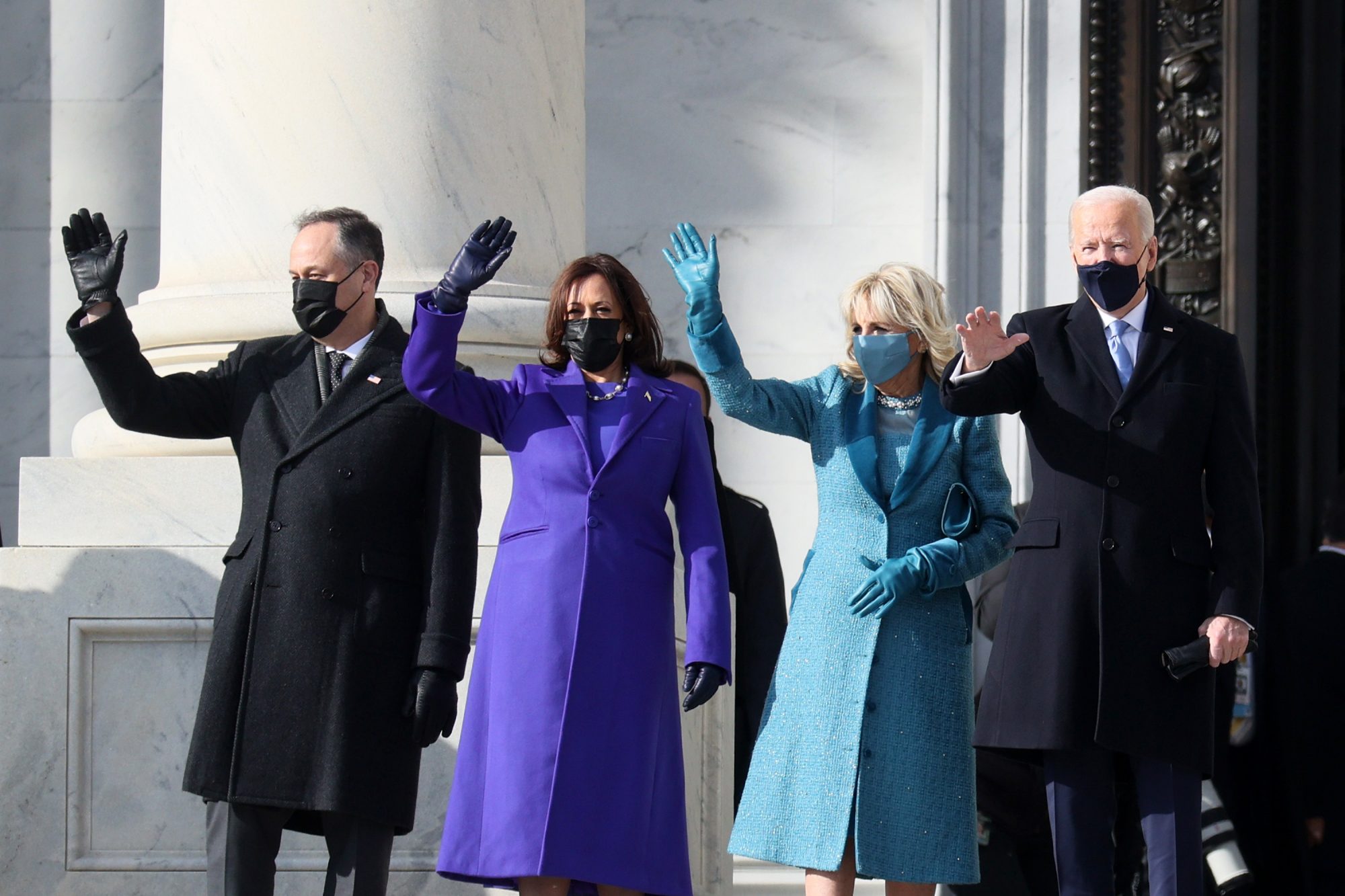 We're seeing American designers—women and Black designers, specifically—front and center.
To the inauguration, both President Joe Biden and First Gentleman Dough Emhoff wore suits by Ralph Lauren, and First Lady Dr. Jill Biden wore a teal coat-and-dress ensemble by designer Alexandra O'Neill of Markarian, which was meant to symbolize "trust, confidence, and stability."
On Tuesday night, while attending the pre-inauguration ceremony remembering the more than 400,000 American lives lost to COVID-19 in 2020, Dr. Biden wore a purple coat (symbolically uniting both sectors of U.S. government—the red Republicans and blue Democrats) by New York-based independent designer Jonathan Cohen.
Vice President Kamala Harris wore a Pyer Moss camel coat to last night's Washington D.C. event. Pyer Moss is headed by Haitian-American designer Kerby-Jean Raymond, who has used his platform and designs to raise awareness about racial injustice, police brutality, mental health issues, and most recently converted the Pyer Moss New York offices into a COVID-19 medical supplies center. He also donated $50,000 to local small businesses.
To the inauguration, Harris took a page out of Dr. Biden's book and wore a color-shifting Christopher John Rogers coat that looked purple in some settings and blue in others. Rogers, one of the most influential Black designers at the moment, also dressed Michelle Obama during her Becoming book tour.
Hilary Clinton also donned purple to the event. We would have loved to be included in this "Purple Power" group chat.
And, um, Bernie Sanders also repped an American-made accessory—his mittens were knitted by Jen Ellis, a Vermont teacher who gifted the mittens to Sanders in 2018.
Ok, fine. We're tearing up a little bit.
Converse and pearls are everywhere today.
Women across America are donning their Converse sneakers and pearl necklaces to honor the first-ever female Vice President, who has famously worn pearls to all the big events in her life—from her graduation from Howard University to her Vice Presidential debate against former Vice President Mike Pence.
But Harris doesn't just wear pearls because she likes them. Pearls are a symbol of her sorority Alpha Kappa Alpha, the first African-American Greek sorority founded by 20 women initially called the "Twenty Pearls." Each new member of AKA is given a membership badge with 20 pearls to honor the founders. Harris' Inauguration Day set of pearls were also designed by an American jeweler, New York-based Wilfredo Rosado.
According to ABC27, a Facebook group titled "Wear Pearls on Jan 20th, 2021" has more than 434,000 members as of Inauguration Day. Supporters could also choose to wear a blazer to rep Harris, as well. We all know the power of a good blazer.
And then there was Michelle Obama. Need we say more?
Former First Lady Michelle Obama and "her guest" former President Barack Obama arrived to the Capitol looking like the most powerful people on the face of the planet.
We're not saying Michelle looked her absolute best in the same color she wore on Inauguration Day in 2016 on purpose to say goodbye to that era, or something like that, but, well, actually…we'll say it. It's a revenge outfit, and we love every bit of that oxblood ensemble by Sergio Hudson, a Black South Carolina-based designer. Vice President-elect Harris also wore a Hudson piece to the inauguration, btw.
Furthermore, Senator Elizabeth Warren also repped a revenge outfit.
Yes, she was wearing a Planned Parenthood scarf, thank you very much. Planned Parenthood was a major target of conservative lawmakers during the Trump administration, and with access to women's healthcare hopefully soon becoming a little less difficult, Warren is celebrating.
We love a good, not-so-subtle dig.
Lady Gaga sported a dove and olive branch.
Delivering a powerful rendition of the National Anthem, Lady Gaga rocked a massive red skirted dress from Schiaparelli along with an enormous gold brooch of a dove carrying an olive branch—the universal symbol of peace—which matched her gold microphone.
Gaga also rocked a braid crown at the Capitol. Though it's not an overt symbol, braids have historically been symbols of strength, spirituality, and an extension of thought for native peoples across the world. With the braids wrapped in a halo-shape around the crown of her head, perhaps Gaga wanted to amplify her message of peace with a sprinkling of strength and purity.
Jennifer Lopez wore the uniform of feminists and suffragettes.
It's true that white is one of the colors in the U.S. flag, but when worn head-to-toe, it clearly symbolizes the history of women's suffrage. White was worn by the original suffragettes in the early 20th century to represent purity and virtue. The color eventually became a way every woman could join the fight, no matter their social status or ability to physically take up the cause.
Lopez attended the inauguration to sing "This Land Is Your Land," and did the OG suffragettes proud.
More to come…