Getting involved in political activism helped me come out of the closet and find my community
I suppose my teenage bulletin board dedicated solely to Jennifer Lopez should have offered a clue. Or the fact that I obsessively watched the 1963 version of Cleopatra with Elizabeth Taylor because I was enamored with Taylor's unabashed sensuality. Or maybe it all should have been clear when I developed a particular fascination with Greta Garbo and her alleged lesbianism. The androgyny of Garbo's character in the 1933 film Queen Christina had me compulsively rewatching the scene in which Christina kisses her lady's maid.
Growing up, my family attended a small fundamentalist Baptist church in Southwest Missouri, a church in which women were not allowed to pray, where women didn't have jobs, and where homosexuality was regularly compared to bestiality and pedophilia. When I was around 15 years old, I remember wondering, "Do I like women?" But I instantly pushed the thought to the back of my consciousness, determined to never again ask myself that question.
Fast forward to early 2017.
I had been having regular panic attacks after Trump was elected. My abject terror for the future of immigrants, LGBTQ people, Black people, and women in America inspired me to get involved in local politics. As I began attending protests, sit-ins, and trainings, I was surrounded for the first time by people who believed that every person should be treated equally regardless of sexual orientation, gender identity, and race. I gained dozens of new friends and a newfound confidence in my own identity. I began to accept the part of myself that I had suppressed for so long.
When I finally worked up the courage to come out as bisexual to my family and friends, the response was exactly what I had expected: "Love the sinner; hate the sin. But because of the warm and inclusive people I met following the 2016 election, I no longer felt ostracized by my queerness.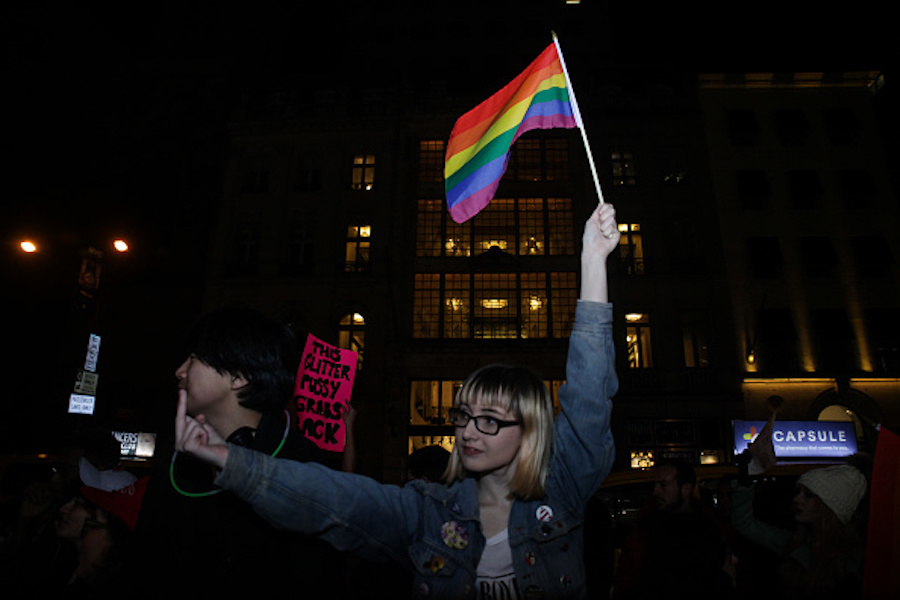 Getting involved in local politics provided me with the support system that I needed to come out, but it also gave me an understanding of the dangerously homophobic and transphobic policies of my state. It endowed me with the confidence to combat these policies.
It's no secret that the Bible Belt is a dangerous place for LGBTQIA Americans. Not only do churches like the one I grew up in spew false equivalencies comparing homosexuality to pedophilia, but many also enforce conversion therapy which is known to have devastating effects on youth mental health. And the effects of this anti-LGBTQIA rhetoric are more far-reaching than just church pulpits. The anti-LGBT legislation pushed by state legislators in the Midwest is often influenced by their religious views, and the political climate for LGBT folks in my state of Missouri is particularly egregious.
This year, for the 20th year in a row, the Missouri Non-Discrimination Act was shot down by the Missouri legislature. This bill would have added gender identity and sexual orientation to Missouri's already existing Human Rights Act so that LGBT Missourians cannot be fired or discriminated against in public housing or businesses. Missouri legislators voted against equality.
Just last year, 17-year-old Ally Steinfeld, a Missouri trans teenage girl, was brutally murdered and law enforcement refused to call her murder a hate crime. Trans people are too often the victims of hate crimes but in states like Missouri where there are no legal protections for LGBT folks, the danger is even greater. Getting involved in local politics helped me come out of the closet and gave me the agency to stand up for myself, but as a white, cisgender woman, I also realized the importance of fighting against the horrific discrimination that is inflicted toward transgender folks and people of color here.
For those of you who are ready to come out but don't yet have a support system, political activism is a powerful way to find community.
You'll also find your voice, learn to speak up for yourself, and learn to stand up for the most marginalized in your state. These past few years have been the most empowering years of my life. I leave you with three ways to get involved in political activism, and while the possibilities for involvement are endless, these are simple strategies I utilized to find support and create sustainable, lasting change.
1Seek out your community's LGBT advocacy group and ask them if they need volunteers.
Most organizations need people to make phone calls, handle data entry, or canvass for political campaigns. Many LGBT advocacy groups hold lobby days, where a group travels to the state capital to meet with legislators face to face. These conversations can be about specific pieces of LGBT legislation (I suggest researching what laws your state has to protect LGBTQIA people, or what acts your state has refused to pass) or about your lived experience as an LGBT person in your state. Either way, I always leave lobby days feeling powerful.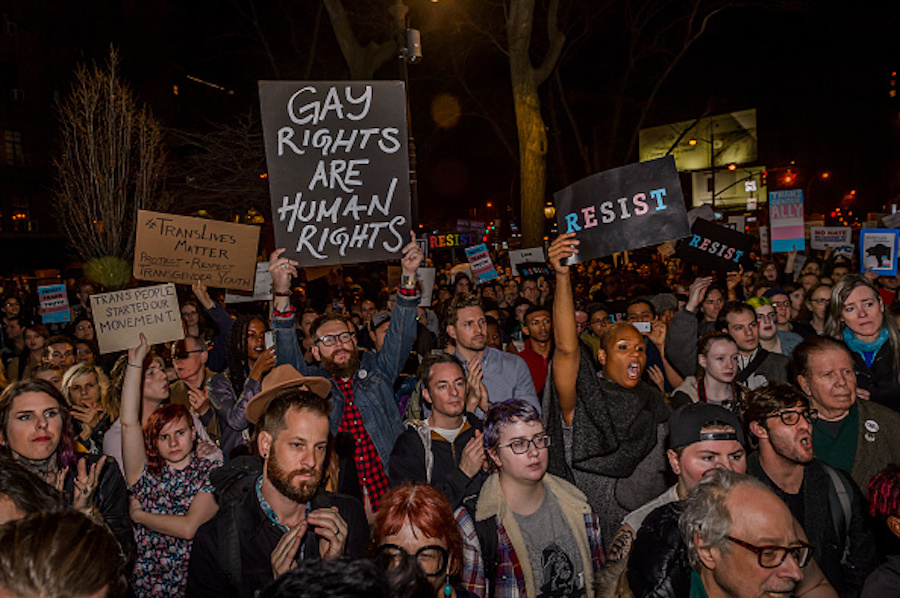 2Volunteer for someone in your community who is running for office.
Find a candidate who will fight for LGBT rights and help them knock on doors, make phone calls, or write postcards. Helping elect the right people to your state's legislature is important because that is where the legislation that will most impact you and your community is created. Plus, volunteering on a campaign is also a way to make lifelong friends.
3If the community you seek does not exist, build it yourself.
For me personally, this looked like founding an organization called Team Millennial, a group of politically engaged young people, because most of the activists in my state were older. For you, maybe this looks like creating an organization for non-binary people, or maybe it looks like creating a space for LGBT folks to heal from religious fundamentalism.
Despite my existence as a queer person in the Midwest, the community that I found through political activism empowered me to come out of the closet. I feel incredibly grateful to play a small role in dismantling systemic oppression of queer people in my state. I hope you too find the community you deserve.