Los Angeles Police seized counterfeit makeup that contained — wait for it — poop and bacteria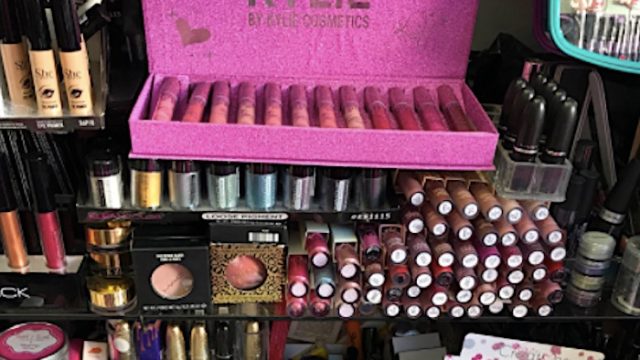 Today, in news we never want to hear: the Los Angeles Police Department found human waste and bacteria in a massive amount of counterfeit makeup. Aside from the fact that this is absolutely revolting, we are so sad to hear that hardworking people are being ripped off when all they want is nice makeup at a decent price. Unfortunately, the fake makeup business is booming.
Brands and individuals in the makeup industry like Kylie Jenner have warned against buying knockoff makeup and beauty products from sketchy vendors, and this is exactly why. These Los Angeles raids are one of the biggest we've seen in recent memory. According to CNN, 21 shops in Santee Alley were hit with over $700,000 worth of products being confiscated. Santee Alley is part of the Los Angeles Fashion District and is a familiar place for bargain shoppers.
Counterfeits of Kylie Cosmetics and Urban Decay products were found among the raid, and the fact that they are contaminated and could make people sick is incredibly upsetting. This also brings up the point of how important it is to diversify the beauty industry in every way, not just with shade ranges.: having a wider variety of price points would help brands avoid situations like this. Kylie Cosmetics and Urban Decay are examples of two highly coveted brands that might be out of reach for shoppers looking for makeup at a lower price point.
LAPD Captain Marc Reina tweeted the news, writing:
"Busted! Major Task Force hits 21 location in the LA Fashion District and nets $700,000 in Counterfeit cosmetics found to contain bacteria and human waste. The best price is not always the best deal!"
It's important to remain vigilant when purchasing makeup, and to remember that you should only be getting it from reputable retailers approved by the brands themselves.
It's just not worth getting poop-filled makeup. If you're wondering, it appears this kind of bacteria gets into makeup when it is mixed in people's bathrooms — which is nasty as hell.
The scale of the raid makes it evident that this is a successful scam that is constantly happening on a very large scale. It's important to be on the lookout and not let yourself be fooled, even when the packaging looks exactly the same.
Keep yourself safe and healthy and stay away from counterfeit products. If you are dying to get your hands on the latest lip kit or eyeshadow palette, it's better to save your money and invest in the real deal than to put yourself at risk for the sake of savings.