12 podcasts every woman needs to listen to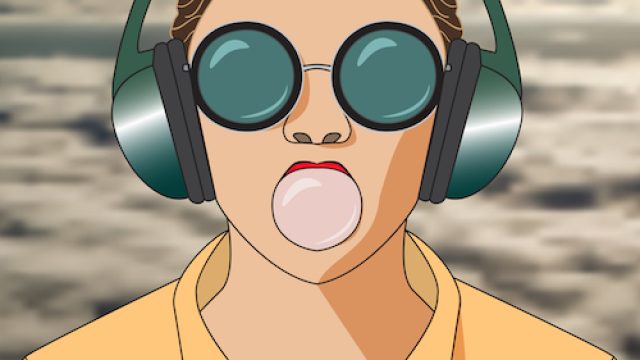 We love listening to podcasts and discovering new ones. Remember the first time you listened to Gilmore Guys? Or when you first discovered Season 1 of Serial? We look forward to new episodes of our favorite podcasts like we do episodes of Broad City or The Mindy Project.
Podcasts are great because no matter what you want to hear, there's a series geared toward your interests. We're talking comedy, true crime, and everything in between. Right now, there are some fantastic podcasts geared toward women and they're the perfect — often educational — earbud companion.
If you're a podcast aficionado, definitely add these titles to your list. And if you're still new to the whole podcast thing, this list is a great place to start! Here are 12 podcasts we're loving right now, and recommend to all our best girls.
1. Stuff Mom Never Told You — Perfect for all those un-answered life questions
There are some things your mom can teach you, and there are others that you must learn as you live life. Or, you know, from this podcast. Stuff Mom Never Told You hosts Cristen Conger and Caroline Ervin aren't afraid to cover every topic from feminism, to ugly-crying, to badass women in history.
2. How to Do Everything — Perfect for how tos 
Look, we're all independent women here, but sometimes you just need a little advice on how to do stuff. Like how to give the perfect handshake, how to accurately count seconds, and how to clean the ceiling. Each episode averages about 20 minutes, so they're perfect for listening to on your lunch break or when you have a quick commute.
3. Nerdette — Perfect for nerding out
It's official: We're taking back the word "nerd." It no longer describes a geeky wallflower, but instead someone who is crazy passionate about something. In Nerdette, hosts Greta Johnsen and Tricia Bobeda invite guests to nerd out over their favorite things. Recently, Stephen King talked in-depth about Corgis, and Sarah Vowell explained our obsession with Hamilton.
4. I Tell My Husband the News — Perfect for catching up on the news 
Meet the hilarious husband and wife team Shannon Green and Dusty Terrill. She's a journalist at USA Today, he's a comedian. Together, they host a podcast where she tells him about the past week's news he might have missed. Much like How to Do Everything, these episodes are a quick 20 minutes or so, which means you always have time to catch it.
5. The Lively Show — Perfect for daily inspiration 
If The Lively Show doesn't inspire you to be your best self, we don't know what will. Host Jess Lively interviews entrepreneurs and successful women about how they got their start, what keeps them going and more. This is a great podcast to listen to first thing in the morning or on your commute to work. The inspiration is contagious!
6. The History Chicks — Perfect for a history lesson 
There have been some badass women in history, both factual and fictional, and The History Chicks want to make sure you know the truth about them. Every episode centers around a different female — like Marie Antoinette, Jane Austen, and Mrs. Claus — and gives you the scoop on their accomplishments and contributions to society.
7. Dear Sugar Radio — Perfect for love advice 
You might remember the advice column, Dear Sugar, that Cheryl Strayed (yes, that Cheryl Strayed) and Steve Almond wrote. The duo took their column and turned it into a podcast, where they answer real questions and offer advice (and empathy and intelligence and realness) that make our lives infinitely better.
8. 2 Dope Queens — Perfect for hearing hilarious stories 
We've been fans of Phoebe Robinson and Jessica Williams (from The Daily Show) for a while now. They collaborated on the stage shows Blaria Live! and 2 Dope Queens together in New York, and now they're bringing the latter to life for all to hear in the form of a podcast. The series is still relatively new, so you have plenty of time to catch up. A few years from now, you'll be saying to your friends, Yeah, I listened to 2 Dope Queens from day one. You're welcome.
9. Two Inboxes — Perfect for anyone with a side hustle 
Maybe you do freelance writing on the side, or create things for your Etsy shop in your spare time. This new podcast, Two Inboxes is all about the #sidehustle. Host Molly Ford Beck interviews people who are balancing both a corporate job and an entrepreneurial venture on the side. If you have a side hustle or are thinking about starting one, this podcast is for you.
10. Call Your Girlfriend — Perfect for girl talk 
This podcast is one big catch-up session between friends — literally. Every other week, BFFs Ann Friedman and Aminatou Sow call each other and talk about everything from politics to pop culture. That's the podcast. And you know what? It'll make you want to pick up the phone and call your bestie too.
11. #GirlBoss Radio — Perfect for gleaning career advice 
Sophia Amoruso is a #GirlBoss; this we know is true. She told her story in her book of the same name, and now she's interviewing other fellow #GirlBosses to share their words of wisdom. Come for the career and life advice, stay for the big laughs.
12. Slumber Party with Alie & Georgia — Perfect for a (PG) adult slumber party 
Alie and Georgia are no strangers to the podcast world. They've been co-hosting Slumber Party with Alie & Georgia since 2012. In the last four years, they've had guests like Grace Helbig, Alison Agosti, Tony Hale and more.