These PMS Brownies will provide you with the sweet relief you've been looking for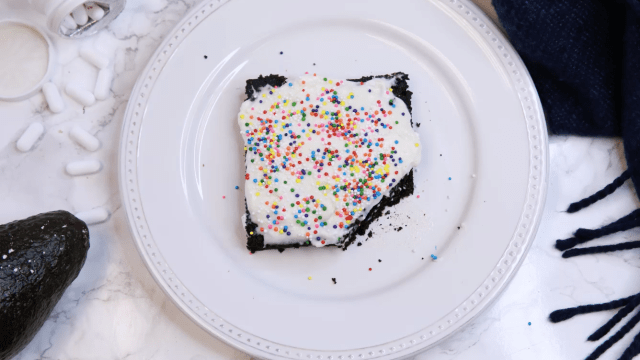 When it's that time of the month, or really any time of the month, brownies come in handy. Treating yourself is the way to go because the struggle is always real. Making yourself as comfortable as possible whether it's a heating pad or a long bath is a great way to relieve cramps, but what to do about those cravings?
This PMS Relief Brownie recipe is your ticket to sweet satisfaction. It's not your typical brownie recipe either, it's healthy and works magic against cramps with healthy ingredients like avocado and greek yogurt. The avocado will actually help balance hormones and fight inflammation. The greek yogurt icing is actually full of calcium which will help with any mood swings and bloating. Plus the dark chocolate is even a helpful against lowering your blood pressure and reduce stress.
So, next time you're craving some comfort food, go into it guilt-free with this brownie recipe, because you're fighting the good fight and you deserve it.
[tempo-video id="5248307125001″ account="4607804089001″]
Brownies
Ingredients:
1/2 cup apple sauce
1/4 cup brown sugar
1/4 cup maple syrup
1 large avocado
3 eggs
1/2 cup dark chocolate powder
1/2 cup flour
1/4 tsp salt
1 tsp baking soda
Directions:
Preheat oven to 350°F
Combine first 4 ingredients in a blender and blend until smooth.
Pour into a bowl and add eggs.
Whisk until combined.
Add rest of dry ingredients and whisk until smooth.
Pour mixture into baking sheet and spread until even.
Bake for 25 – 30 minutes.
Frosting
Ingredients:
1/4 cup cream cheese
1/4 cup Greek yogurt
6 tbsp powdered sugar
1/2 tsp vanilla extract
Sprinkles (optional)
Directions:
Combine all ingredients in a bowl and whisk until fully combined.
Frost the brownies and decorate with sprinkles if desired.